EDIT: updated title for accuracy
EDIT2 7/14/2013: Added photos of EBC control box and solenoid, replaced all direct image URLs with thumbnail URLs for easier post reading
EDIT3 7/16/2013: Added photos of completed electrical portion install and IC piping kink ghetto-fix
EDIT4 7/23/2013: Finally got around to plumbing it in and testing it - and it doesn't work
So, because it took a bit of hunting to find this information, I thought I'd pass it along - and show how I made my own ghetto-fabulous pigtail and connector for a Toyota Supra pressure sensor that I needed to wire in to my Subaru in order to support my EBC install.
I bought an EBC from someone I think on this board a while back, it came with this Supra pressure sensor and no pigtail - just 3 unknown pins in a connector I didn't have. Recently, on my trip to the junkyard, I pulled some Subaru Legacy airflow sensor connectors with pigtails for general purpose use (they were available and cheap).
Today, attempting to wire up this EBC, I get to the point where I have figured out the wiring (see below) and have tested with test leads and am ready to wire up the Supra pressure sensor. I go and try to solder directly to the pins and oh man, I didn't have enough expletives to get that one completed. I get an idea and go grab one of those pigtails and check out the spacing and pin slots. It looks to be close enough, and the connector's key / bumps on one side seem to kinda fit under the Subaru connector's casing. It was just too small; 3 pins vs 5 pins. I had to cut and break away the plastic casing around the Supra sensor's connector, leaving only a small section at the top to catch and hold, but after I plugged it together and tested -- it worked fine!
Some photos are below, followed by some of my research links for anyone else wanting to make use of this highly popular and available Supra pressure sensor for any of your projects and don't have a diagram, here ya go.
Below: My Toyota Supra pressure sensor with Subaru Legacy airflow sensor pigtail custom hack job result
Below: Here's what the airflow sensor pigtail looks like when extracting the 3 center wires -- the white is NEGATIVE, black is POSITIVE (yeah, I didn't plan that either), and the longer wire on the left outside the central insulator - black with red stripe - is the
signal
wire. I got about 1.8v at atmospheric pressure here in Oregon, and it raised when pressure was applied and lowered when vacuum was applied . Seemed to be functioning so I'm going ahead with it:
Below: Subaru Legacy airflow sensor connector female end: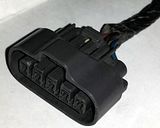 Below: The Supra pressure sensor I busted up to fit in the above Subaru airflow connector female end's center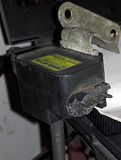 Below: Supra sensor for a lucky fella that also received a proper connector with pigtail. Note: Many Supra forum posts I've come across referencing wiring of this sensor seem to always reference the wire colors on the pigtail, so finding this photo was quite helpful in figuring out which pin did which, along with the scans from the manual with the battery-based testing procedure for the pressure sensor (below further)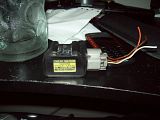 Links I found relevant to this portion of the install:
Supra pressure sensor wiring
Supra manual scan - pressure sensor connector
Supra manual scan - pressure sensor test w/battery
(connector bumps/ label down 1,2,3)
Pin 1 is NEGATIVE
Pin 3 is Positive
Pin 2 is signal wire
Picture of it with a pigtail from here
More pics and info on the EBC install to come, I paired it with a new FCD wiring (I had a very beta FCD installed in my '94 for a long time, since removing it for my recent rewiring I've found the newer one I built and saved for this purpose), and I'm anxious to go test both out
Edit2:
Below: Pic of EBC control box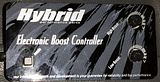 Below: EBC's wastegate control solenoid strapped on to my relocated cruise control vacuum assist mount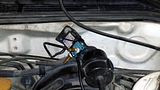 EDIT3:
Also, while I was in there, I noticed that my intercooler piping had developed a section of silicon tubing that was more or less kinked. In the photo below, I've circled the area where the silicon passes under my coffee cup resonator - this is where it is being kinked. I decided I could ghetto-rig that up better; so I grabbed a worm-gear hose clamp I had lying around, separated it, and added it to the kinked area of the tube to hold it open / round. After I tightened the clamp down a little, the hose reformed and lost the kink. Put it all back together and it's looking much better now. Easy HP increase = remove restrictions!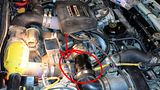 Photos of how the install ended up...
Below: Inside the cab (I'm aware my steering wheel isn't on straight --- details, details)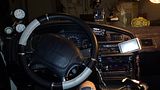 Below: Under the hood, full (one of my bearded dragons insisted on posing with the badging for this):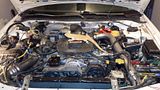 Below: Under the hood, by driver's side strut tower - in the original cruise control vacuum assist mounting place sits the Supra pressure sesnor, on the relocated cruise control vacuum assist mounting arm is the new EBC's boost control solenoid that I have yet to plumb in. This photo is after the electrical portion of the install (and the hose clamp kink fix):
EDIT4: Finally got around to plumbing in the EBC to test it out, and it just gives me wastegate boost. Haven't gotten it to actually control boost yet. I suspect this unit may be inoperative, but as I purchased it such a long time ago there's not much I can do about it. Lame. Gonna plan to get the car back into the garage and run through some troubleshooting steps, confirm wiring and see if any control signal is making it to the solenoid at all. Perhaps it's a dead solenoid, I suppose if I can't make it click on the bench I should look into a replacement. Hmm... wonder if the stock BCS would work with the EBC? Probably not worth the trouble....