Last night my car was stolen from out front of my house...
I live near Hazel Dell in Vancouver, it was taken between 12 o'clock in the morning and 1 AM... I fell asleep about 12 and my roomate came home at 1. It was gone when he came home.
I have reported the car missing and am really hoping that the is found unharmed.
yes the doors were locked (i'm very anal about that...)
The car (for those who dont know it already)....
My Build Thread wrote:Okay so here are some pics...

And here is a COMPLETE mod list

Engine:

2002 RS 2.5l Block

STi Rods

CP Pistons for an STi

ej253 HG

98LGT Heads

94 STi Intake Wrinkle Black (pretty much the same as all other 20g intake manifolds lol... but the ports had been ported)

td04 Turbo

ej20r/h Fuel Rails

440cc Grey Top Fuel Injectors

06-07 WRX TMIC

Ver 4 STi Top Mount Y-Pipe (slightly modified)

Custom Silencer Delete

Snorkus Delete

K&N Drop in Panel Filter

IAC Delete

Charcoal Canister Delete

Perrin Up-Pipe

Perrin Divorced Down-Pipe

Cobb Catless Cat-Back

SPT Oil Cap and Battery Tie-Down

Group N Motor Mounts

WRX Coolant Overflow Tank

Drivetrain/Suspension/Brakes:

WRX Upper Shifter Modified to work with the Legacy Lower part

Rallitek Shifter Mounts (they call them Bushings... but they arent really)

ACT Heavy Duty Clutch

Hel SS Clutch Line and Damper Delete

Goodridge SS Brake Lines w/ AN Fittings

New OEM Rear Brake Lines

ABS Delete

WRX Power Steering Rack

WRX Power Steering Pump

Whiteline End Links

Interior/ICE:

Alpine 9885 Headunit

Alpine Type R Component Front Speakers w/ Factor 2nd Gen Tweeter Mounts

Alpine Type R Coaxial Rear Speaker

Infiniti 500watt 4 chan Amp driving the speakers

STi Floor Mats

Kartboy Shift Knob

TBI - Dual 12" Sub

TBI - Dual 400 Mono Block Amp

TBI - Autometer Sport-Comp Boost Gauge

TBI - Autometer Sport-Comp Narrow Band AFR Gauge

TBI - Autometer Sport-Comp Pyrometer

TBI - FJO Wideband 02 Sensor

Exterior:

JDM Fog Lights

17" Legacy GT 5-Spoke Wheels

TBI - Legacy RS Rear Garnish

TBI - Glass Headlights

Future Plans...

Link

H&R Coilovers

td05-18g

OH.. and the Hood and Front bumper are off the 92... they are getting repainted ASAP to match the rest of the car lol
Most recent pics :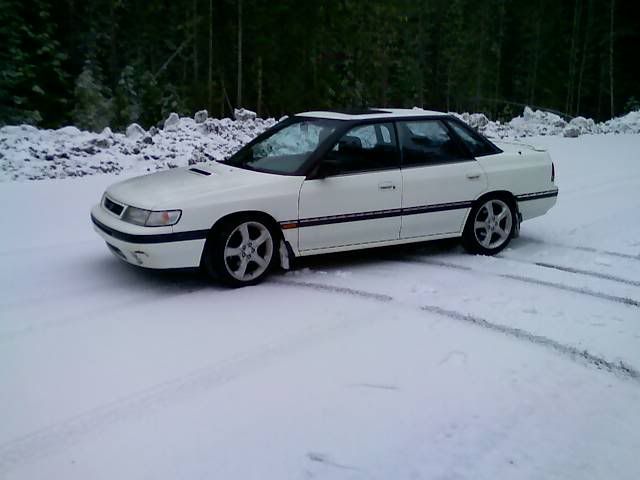 Its still has the 5-spoke LGT wheels.
Please anyone who has any idea as to the whereabouts of the car step forward and say something. This car is my baby and every spare cent goes into it. I'm also wheel-less at the moment and have to drive A LOT for work.
I feel the need to say this...
If you, the person who took it, are reading this and have my car... Know that I will find you. If you bring it back unharmed immediately I'll let you walk away... However, if I find you by myself. There will be hell to pay. I promise you that.
PLEASE HELP ME FIND THE CAR!!!
Here is my phone number... any help is appreciated. ANd please help me watch craigslist for parts.
360-798-2640
360-356-1798
~Spencer