What do they do?
They tie the lower a-pillar subframe to the upper front frame member to provide tiangulation of the junction between the two. The stock braces are made of stamped steel and flex like nobody's business. These braces are a one of a kind solid aluminum piece. There is no comparison.
What are they made of?
6061 T6 1/4" Aluminum plate
What are the benefits?
After installing these you can feel a drastic change for such a small part. Instead of having the chassis absorb the shock, let your shocks and springs do it! After all that's what they're there for.
Turn in is amazing, steering response is better, and the overall point and shoot method of driving the car is improved. I love this mod.
Tools Needed For Installation:
Flat head screwdriver
Needlenose pliers
Phillips screwdriver
10mm socket with extension
14mm socket with extension
3/8" drive rachet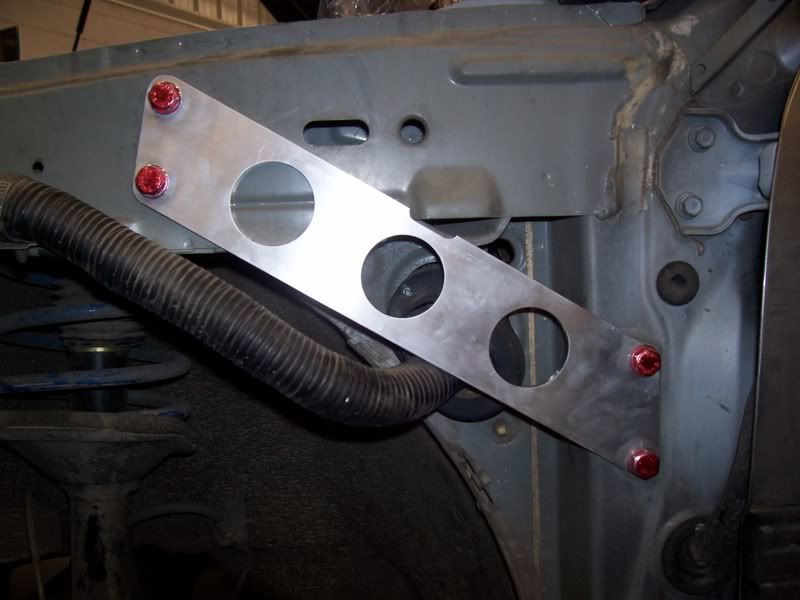 What do they fit?
ALL 90-94 Legacy Sedans and Wagons
ALL 02-07 WRX Sedans and Wagons
ALL 99+ RS Models
ALL 04-07 STi Models
SOME 93-01 Impreza L models will require two holes to be drilled and tapped.
How much are they?
$109
shipped comes with new bolts and washers, aswell as installation guide.
Available in 4 different colors:
Time Attack Black
Rallye Sport Red
Royal Sports Blue
Limited Edition Polished Aluminum
All sets will be sent out on February 1st. You can pre-order yours today. Please e-mail
simplysubie@yahoo.com