Did some fabbing over the weekend.
My neighbors must hate me, constant cutting/grinding Friday night thru Sunday night.
Cut/welded some angle iron and made the following radiator supports: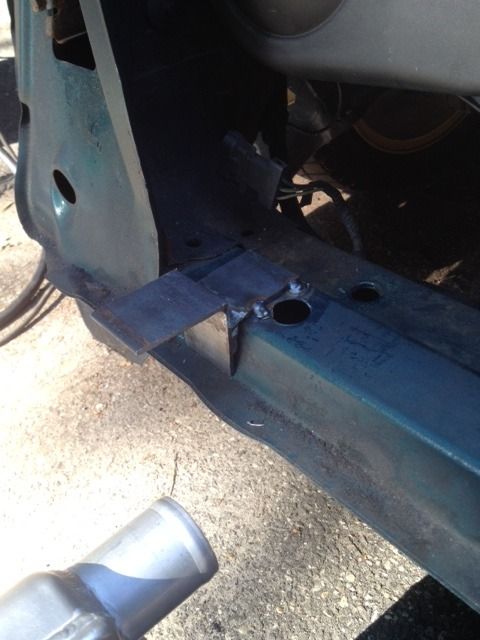 I still need to drill holes and weld some locking nuts to the underside so I can bolt down the radiator to the mounts and finish welding the mounts on. I tacked them on for mock-up purposes, but everything lined up so well I'm not even going to bother cutting them out. I'll drill and weld everything the way it sits now.
I left a little distance between the top of the radiator and the support brace I made that connects to the headlight frames so I can throw some rubbers between the radiator tabs and the support brackets for some cushioning.
The way it sits, the radiator protrudes about 3" pass the supporting structure. Looking at the way the bumper is, I don't think I'll have to cut anything from that once it goes back together, but we'll see when I go to put it back on.
How the inlet/outlet matches up with the crossover pipe and the water pump. Given the protrusion of the ports on the griffiin radiator, I couldn't just sit the radiator on the old radiator support without having interference issues with the waterpump port and the bottom radiator port. So I moved the radiator about 3" forward, and it will sit about 2" higher which lines up the ports well as far as height is concerned. I'm pretty sure with this clearance I can slip a slim puller fan on the inside of the radiator and have enough clearance from the crank pulley.
There is no radiator cap/fill on the griffin radiator, so I was thinking I could get an expansion tank from any turbo Subaru and mount it where the A/C compressor would be. A/C is simply not an option at this point without some serious fab work. This works out well because there is a threaded inlet on the griffin radiator on that side of the radiator. I'd just have to plumb that up and find somewhere to put an overflow tank.
That is all for now.