I would like to start this by expressing my love for Subaru's. Its been a long time passion, hobby, and career. As a kid, before I ever had a drivers licence, I dreamed of owning an impreza, this was before usdm wrx/sti's where around. I had my bedroom walls flooded with pictures of Colin McRae in his 555 impreza rally car. I knew someday I would own an impreza .
About 5 years ago that dream finally came true. I picked up a 1993 Impreza L sedan 200,000miles, automatic, bone stock, with a decently clean/straight body. Car ran like a champ with its 1.8L, it was the best $800 I ever spent.
At the time I needed the impreza to be a reliable DD while I was finishing up my 240sx build.
2 years down the road and it was time to get the impreza built up. Initially I wanted to do a usdm Sti swap but after much debate and research I deemed the ej22t to be the easiest, cheapest, and in my opinion, the most reliable engine of choice.
This would be my first experience in swapping a turbo engine in a N/A Subaru. I was fairly uneducated in the matter so this was a giant learning experience.
I picked up an ej22t from a local who proclaimed to have done the swap before, he basically told me it was "plug and play". He said "no wiring needed". I would love to punch that guy in throat if I ever saw him again.
I spent TONS and TONS of time on the internet doing research and downloading F.S.M's into my brain. I literally would have nightmares about wires, and at times I wouldn't sleep at all for fear of forgetting some important bit of information. Overwhelming to say the least.
The very dirty 1991(oil cooler equipped) ej22t I picked up: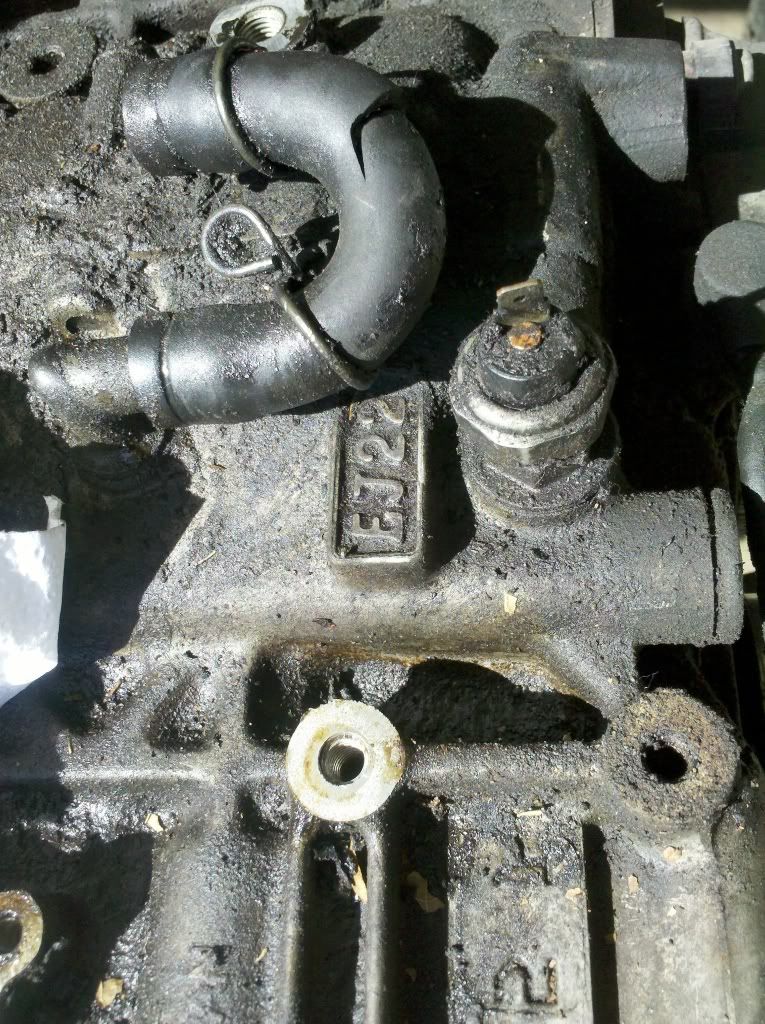 My roommate at the time had an ej22t we had taken apart, to our surprise we found that an oil squirter had come out and destroyed the insides of the engine. I did some research and had found several people reporting of this problem.
So, I had no choice but to pull the pistons and first, make sure all the squirters are their, and second, lock-tite those lil bastards! To my luck I had all four of them in tact.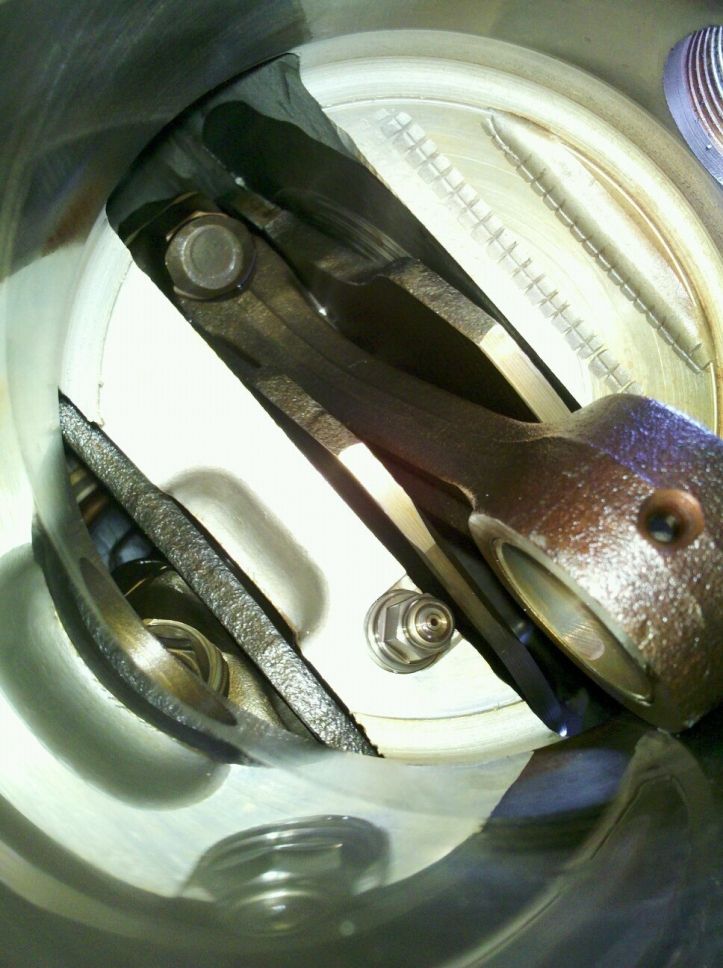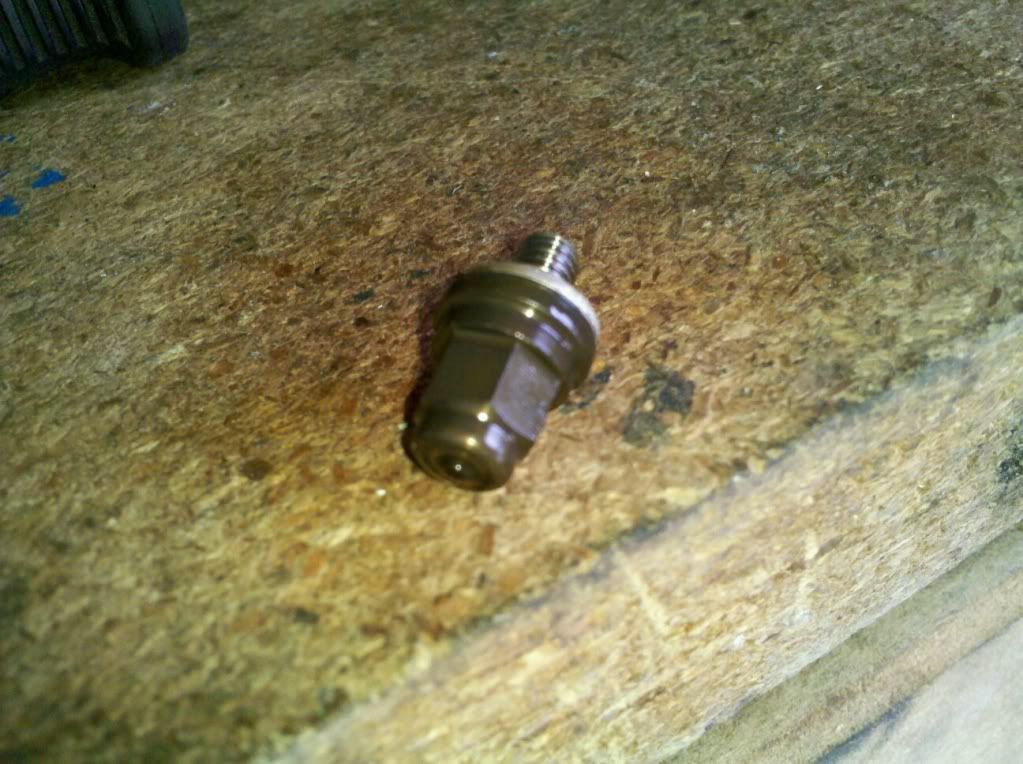 And after lots of elbow grease a toothbrush and a tooth pick, its looking like an engine again: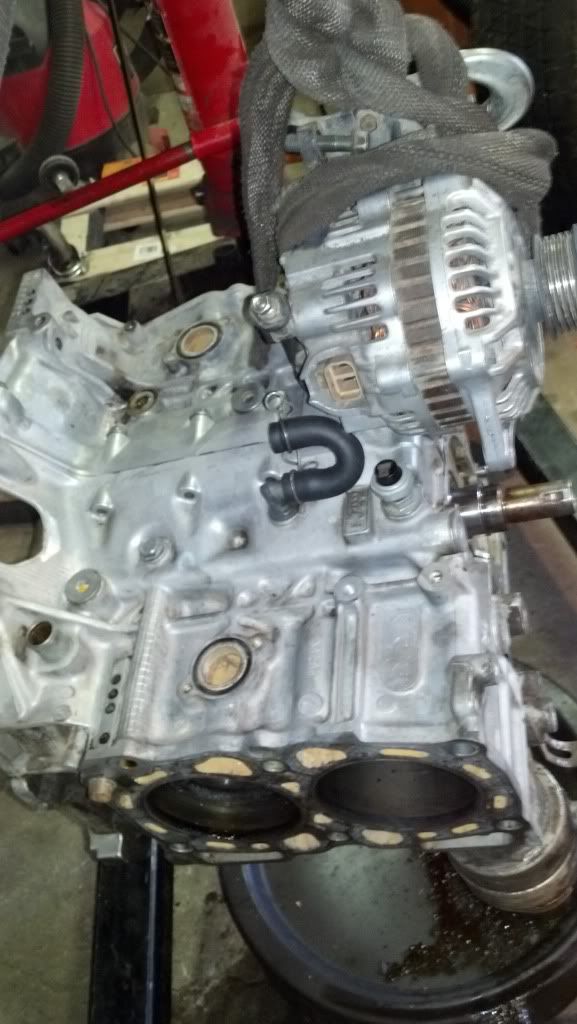 Going in: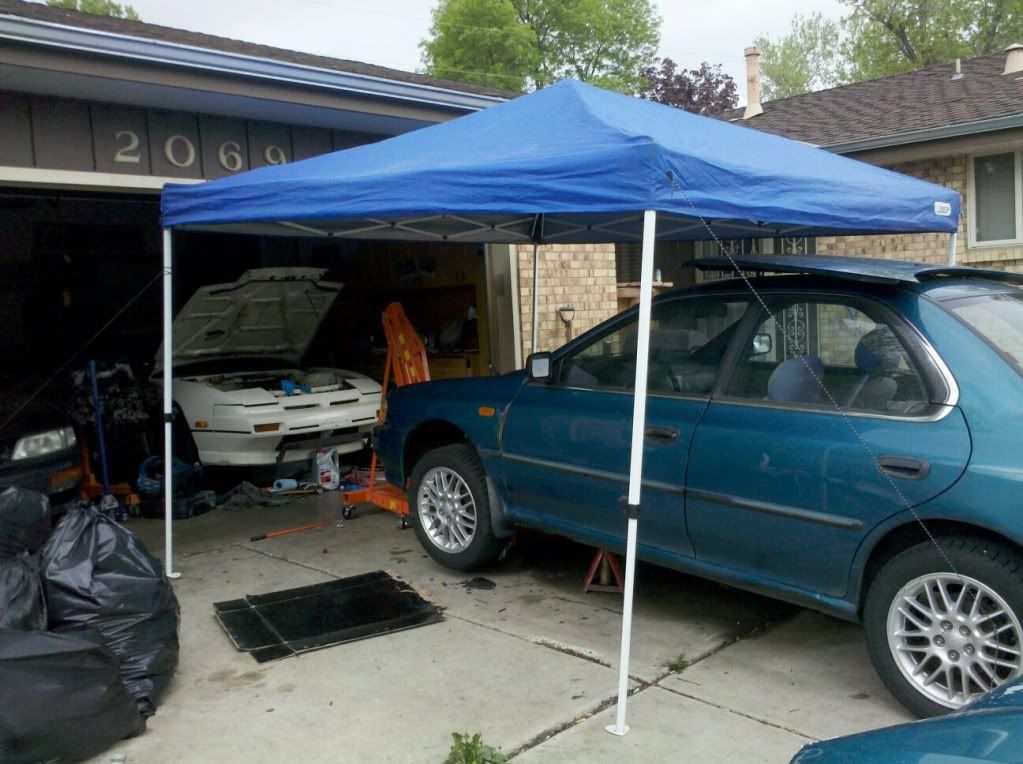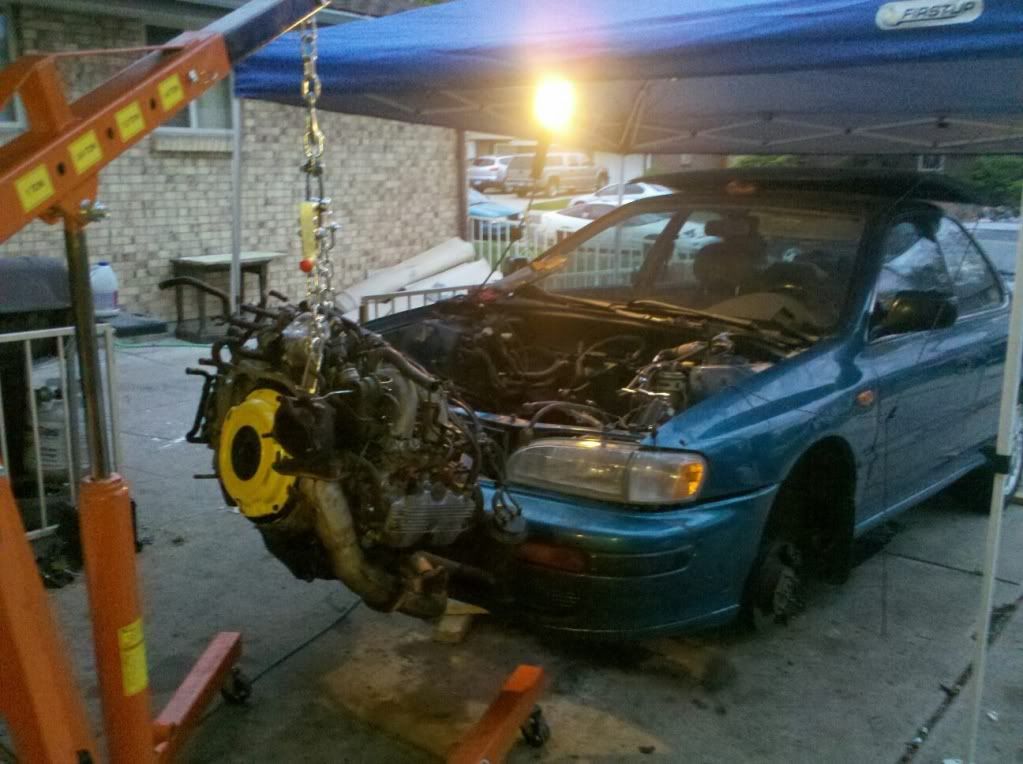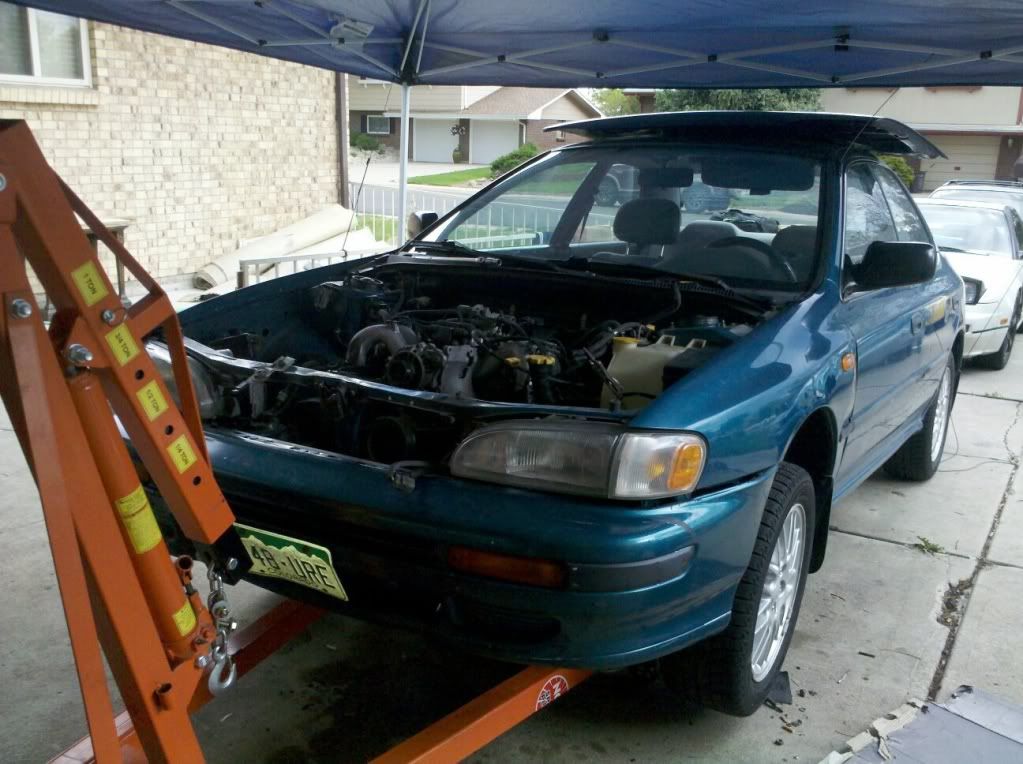 Now for the not so fun stuff, mind you I did this ALL by my lonesome, no help from anybody, didn't know anybody experienced, and it all happened through a cell phone(laptop was broken), I literally did all this by viewing F.S.M's on my phone and following diagrams on a tiny ass screen, such a pain!: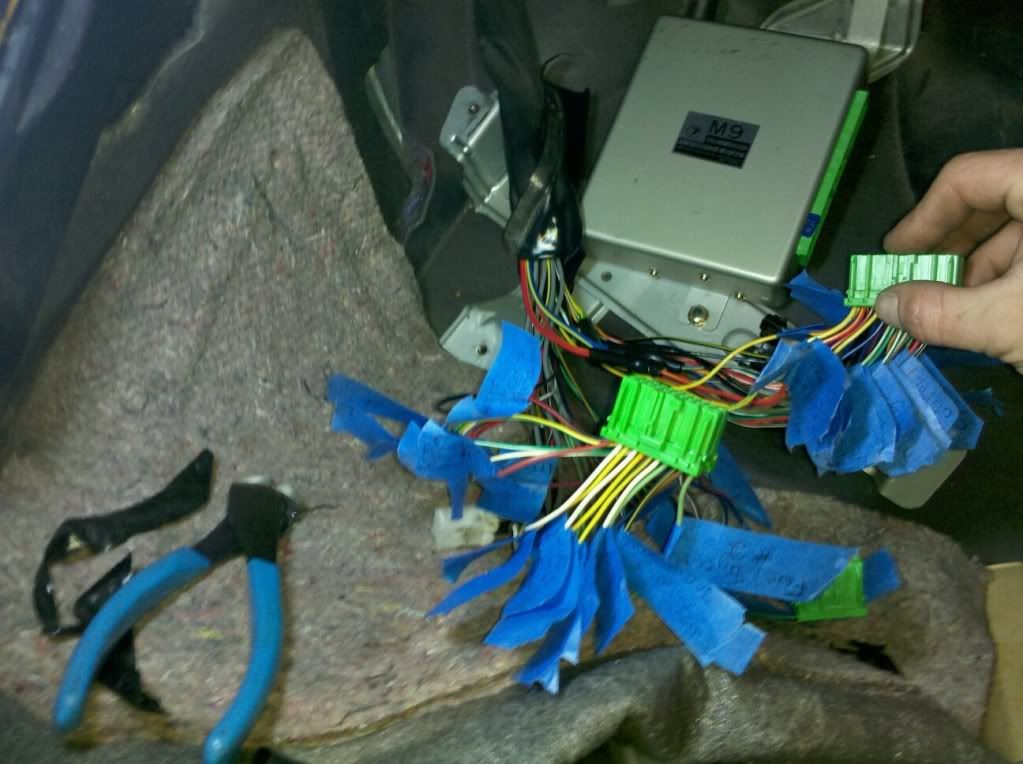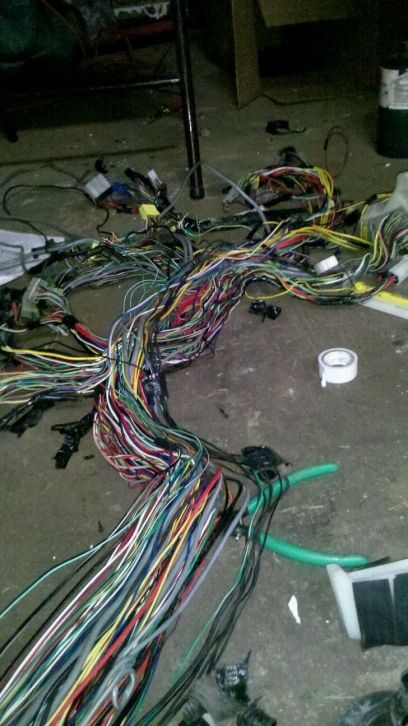 http://static.photobucket.com/player.sw ... 0b549f.mp4
When it came to the wiring, I ended up doing it several ways after getting discouraged by partial failure from the first time.
At first I didn't have a turbo legacy harness, so my plan was to use all of the impreza harness(body, chassis, engine), and add wires for boost related sensors. Essentially I did this almost right except that I had not added sheilding to my new wires, I flipped my coolant and oil light senor wires going to the cluster(green/white & white/green, easy mistake), I didn't hook up the wastegate solenoid, and I didn't know about the legacy adding a diode to bump up voltage for the ignition Switch/self shut off control to turn on/off. When I first started it and went for a drive my coolant light would instantly max out and oil light gradually light up as the car would warm(lol), because the wastegate solenoid wasn't hooked up the car would not go above 4k or 5k, and because I didn't have the diode to bump up voltage I had to wire the ecu power to a switch to turn it on. I also hated that the engine plugs ended up coming out right by the turbo rather than by the battery. Un-shielded wires would have been a problem as well.
All these problem had me over exaggerate my thinking, and I made the choice to take all the wiring out and start over. In my second faze of wiring I decided I needed to find a turbo legacy harness(chassis, body, engine) and incorporate it into the impreza.
I ended up scoring at my local junkyard and picked up an entire ej22t setup(engine,cross member, every single sensor, all wiring, turbo, ex.) For $250!
I managed to use the entire 22t wiring in the impreza, but the routing of things wasn't easy and it wasn't the best it could be, however I made it work for about a year. After that time, I started thinking about redoing the wiring for the third time. The legacy harness came from an automatic car and has lots off extra wires that end up taping into almost every bit off the hole harness. I wanted it to be just what I need, clean, and without all the extra BS.
In the third faze of wiring I opted to go back to impreza wiring but I would make the engine plugs located at the battery and add 22t boost sensor wires w/shields now that I had a donar harness. This required completely dissecting the harness and rebuilding its routing and with custom lengths where needed. This ended up coming out great and super clean.
Some in between upgrades:
03 wrx top mount w/ HKS bov, td04, mishimoto radiator w/ dual slim 1550cfm fans, custom CAI, hallman MBC, 3in. Catless TBE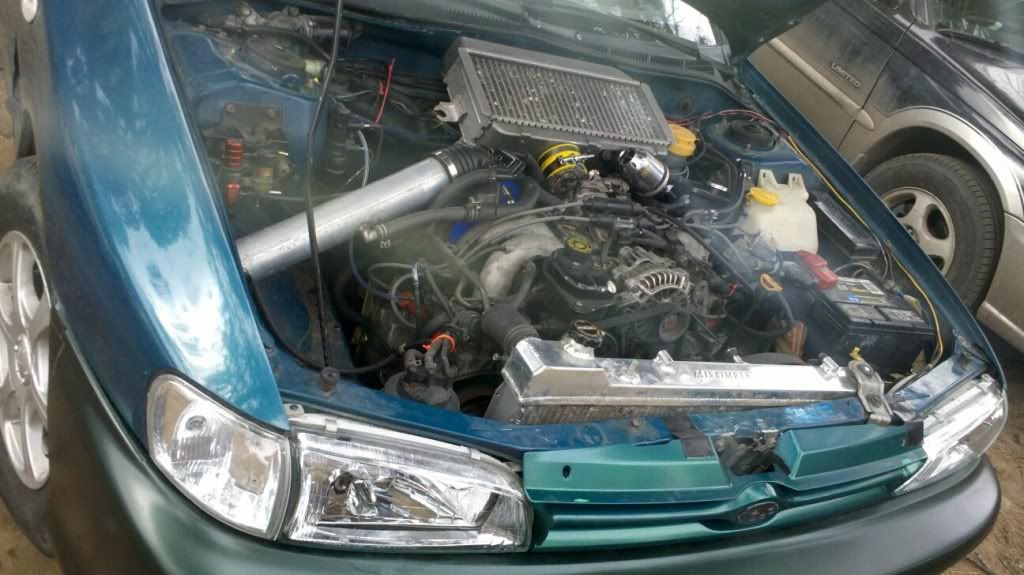 Painted LGT snowflakes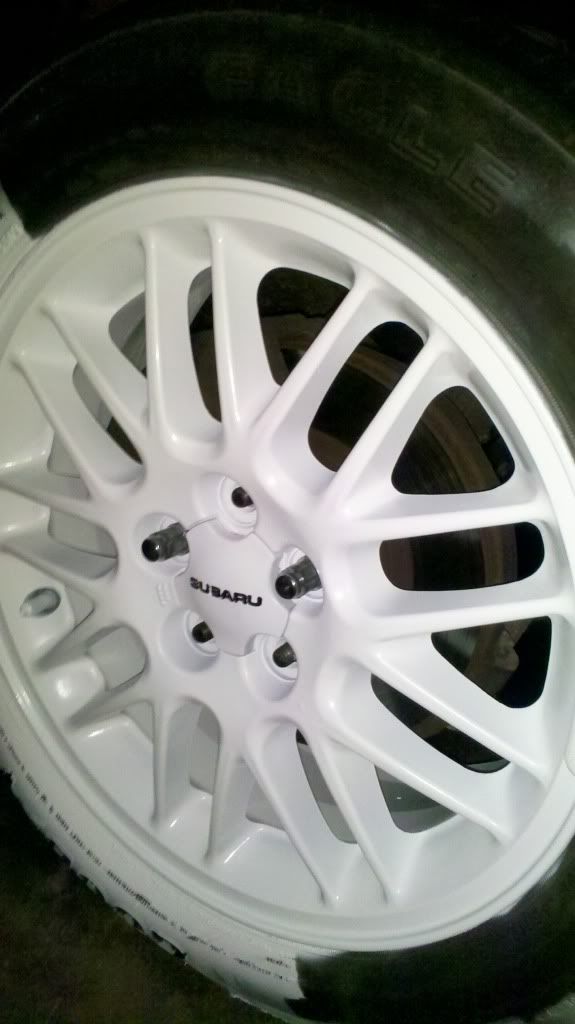 Updated lights, bumper, and hood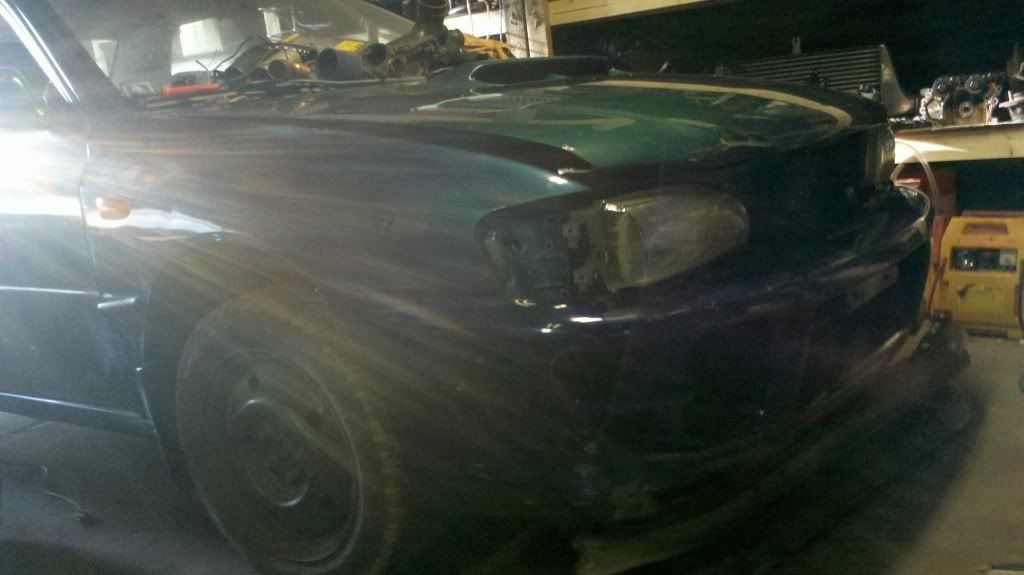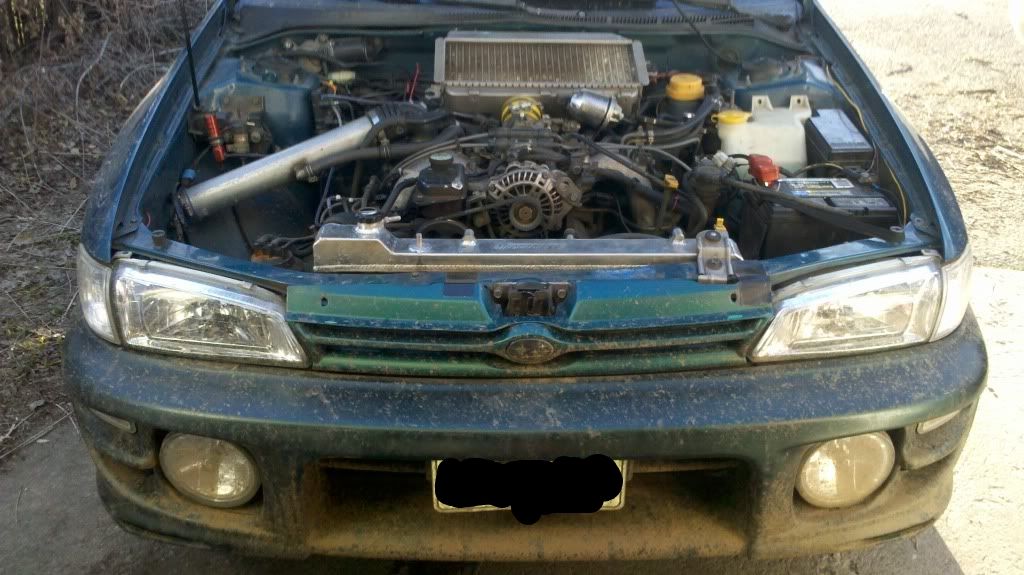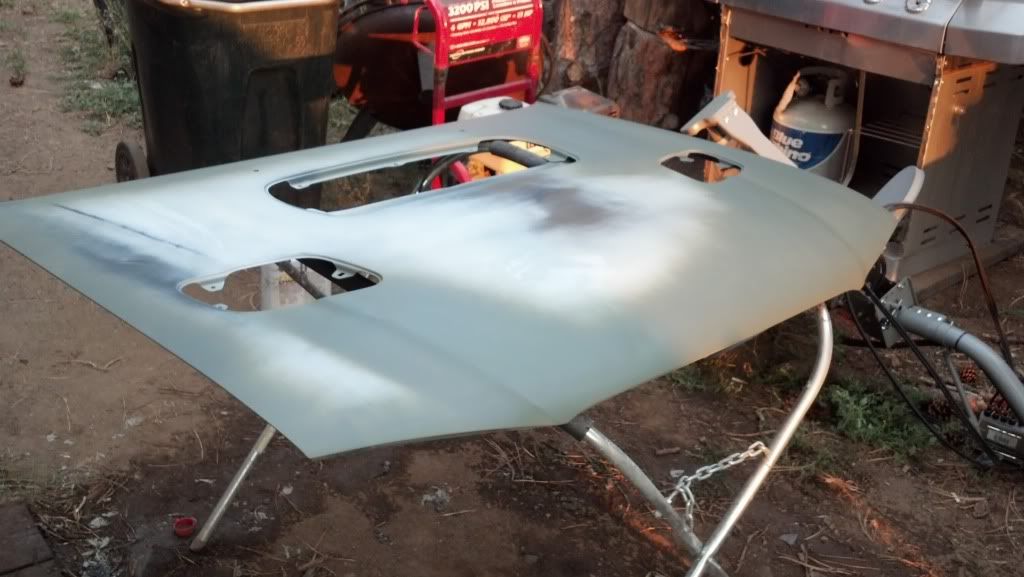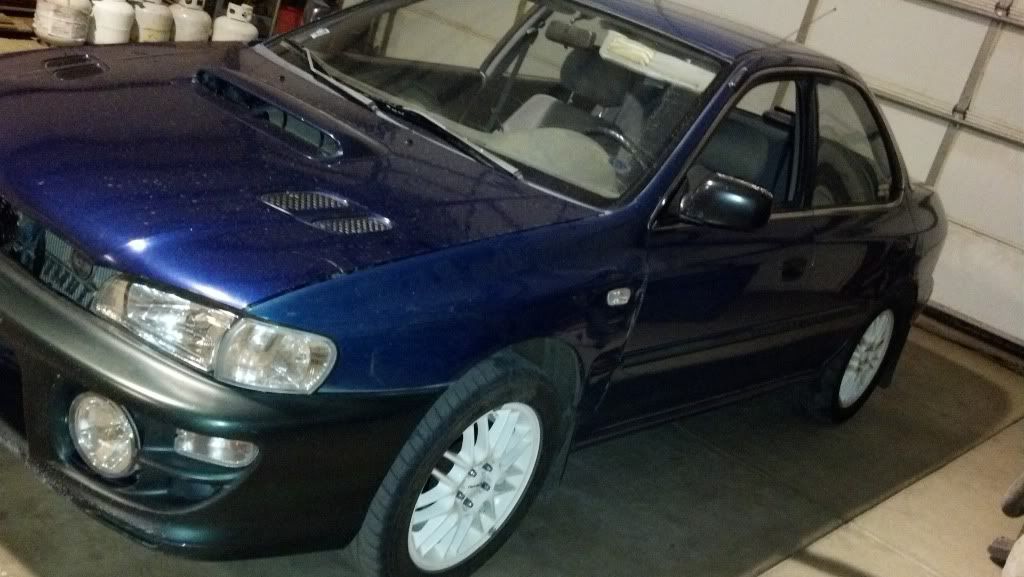 I love a dirty car with clean wheels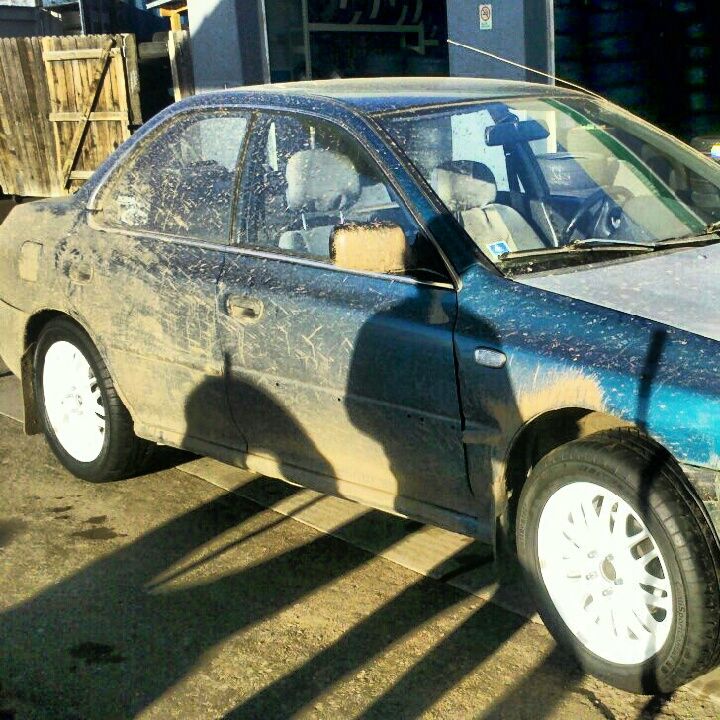 It wasn't long before I wanted more power. After reading through several write-up's on dohc swapping , I decided to take this route. I pretty much wanted this to be a fully built engine that would be reliable bu also powerful.
I had picked up 96' ej25d heads(shim under bucket nonadjustable) and sent them to a local machine shop for some clean up.
I did some research to find if anybody made after market performance parts and found that a very credible company Ferrea advertised performance valves/springs/retainers/guides/locks/shims.
I had chosen to make the purchase of +1mm over sized dish high performance valves, titanium retainers, dual valve springs, locks, guides, and shims.
When the parts came in I took them to my machine shop. The next day I got a call back from the shop, they said that none of the parts would work with the heads, all the fitments/sizing were wrong.
Boggled I thought maybe the parts they sent were actually for 97+ ej25d heads(shim over bucket adjustable) so I went out and picked up a set of 97 ej25d heads and brought them to the machine shop. After a few measurements we could see that the Ferrea parts would not work with the 97 heads either.
I called up Ferrea and was able to get ahold of their main engineer's and explain the situation. These were some really awesome people to talk too , they were very nice and helpful. Basically they were dumb struck and never heard of this problem, they asked if I would ship my heads (both 96' & 97')off to their facilities (free of any charges) for R&D, and to ultimately find out if they can devlope something to work for me, and it would all be done free of charge.
I sent out the heads and waited about a month before I got a call from DJ at Ferrea, he explained that they had done their research and concluded that they could manufacture the parts.
Another month went by and I got a call from Steve at Ferrea, he said the heads and parts were being overnighted and should be expected. He also went on to apologize about the mishap, he explained it was likely they would discontinue to make any more ej25d components and that they would be removed from the catalog.
This would be one of a kind for sure. No body else has 97' ej25d Ferrea heads.
Best box to get in the mail ever!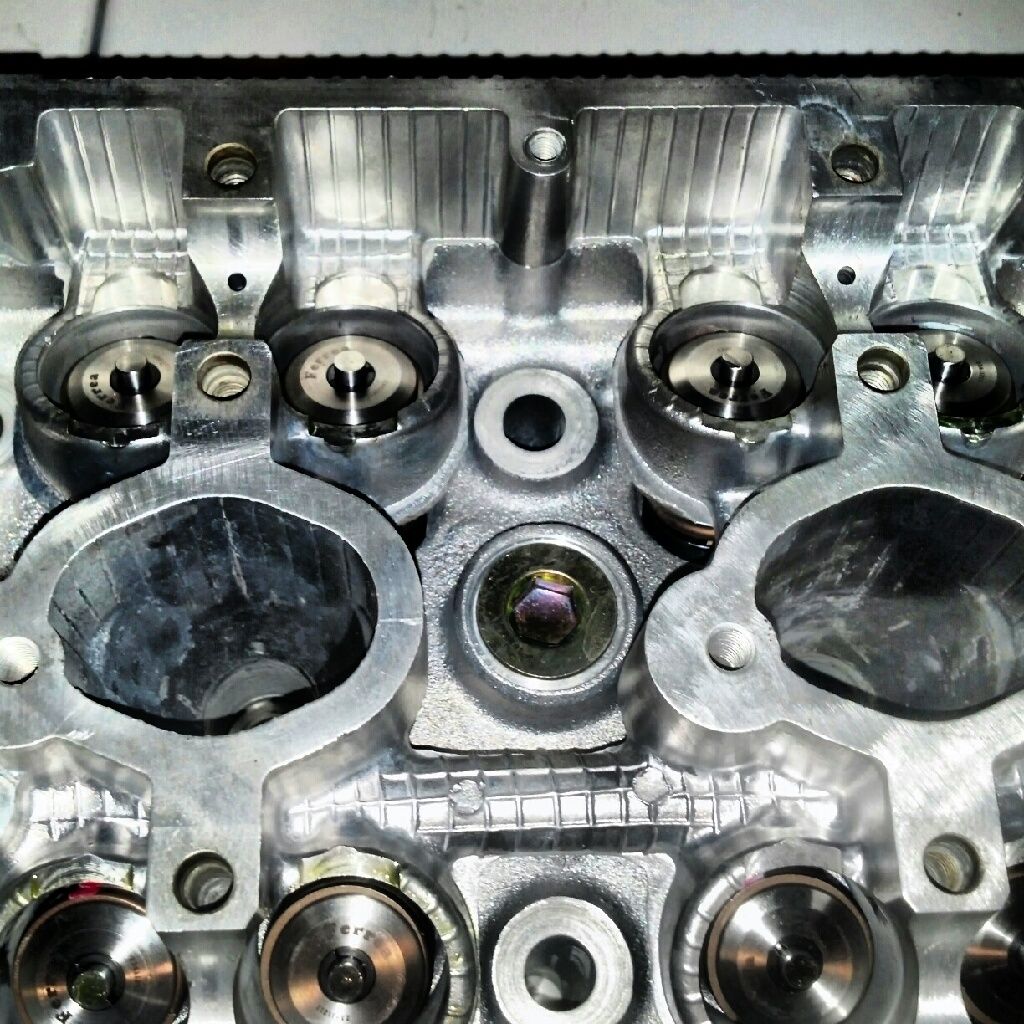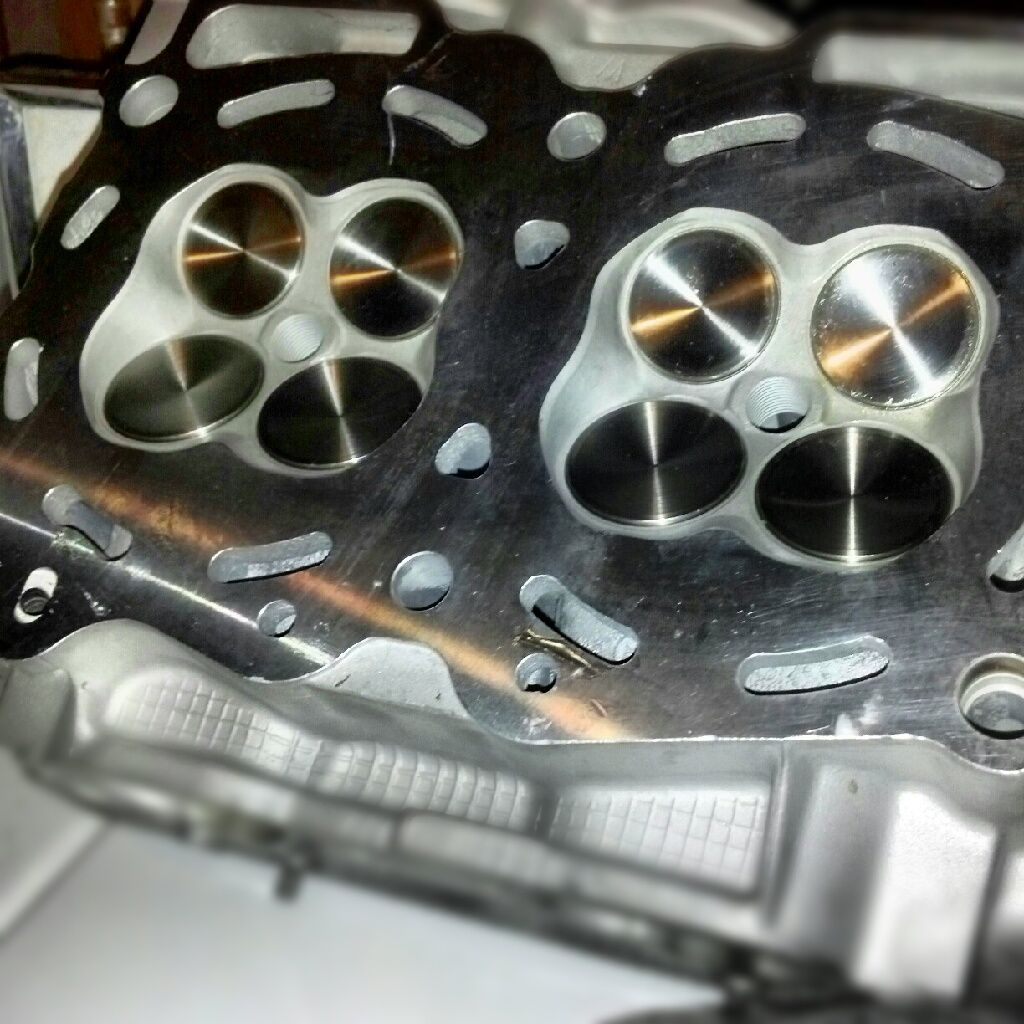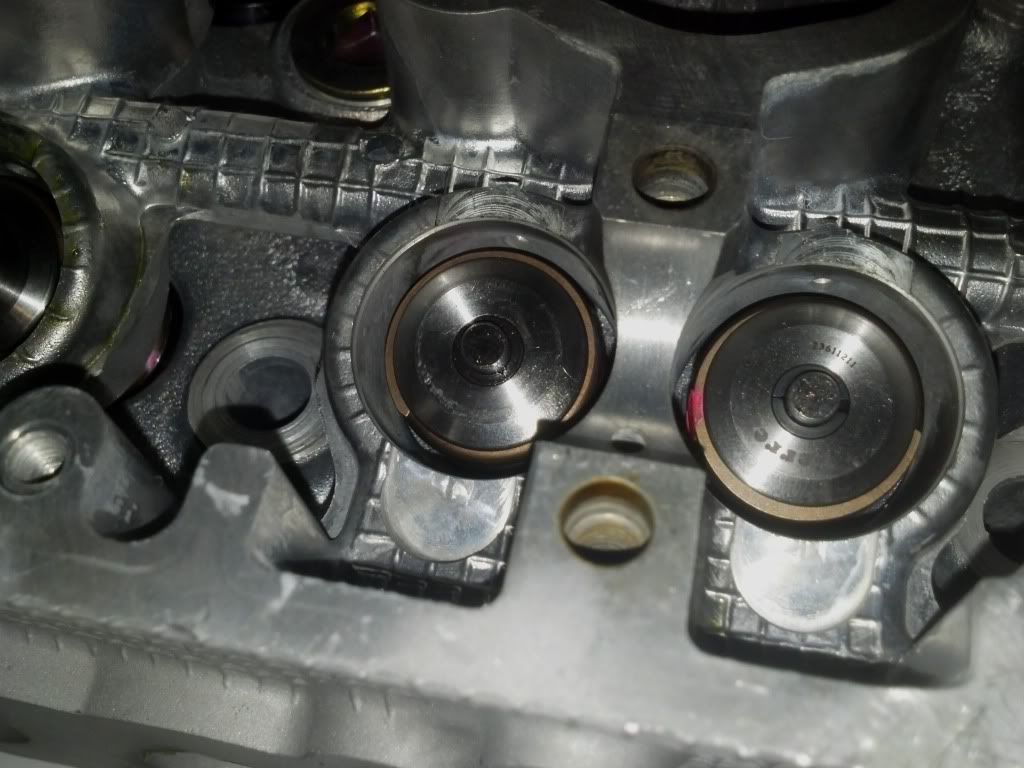 And while I was waiting for the heads, I had some bottom end work done: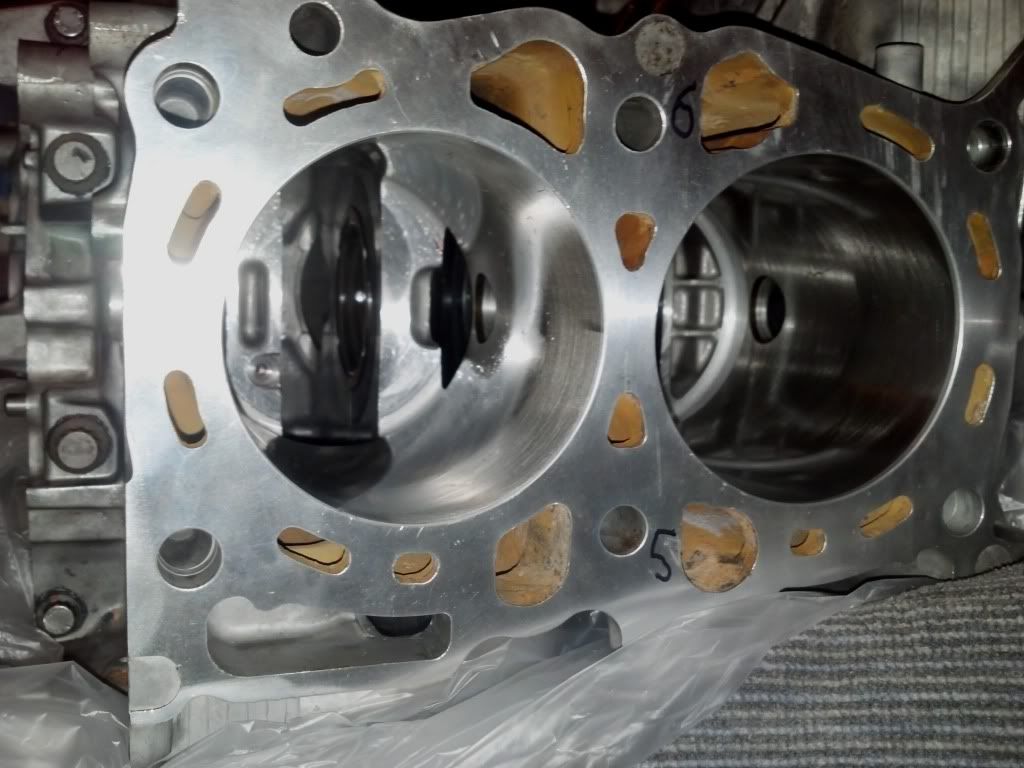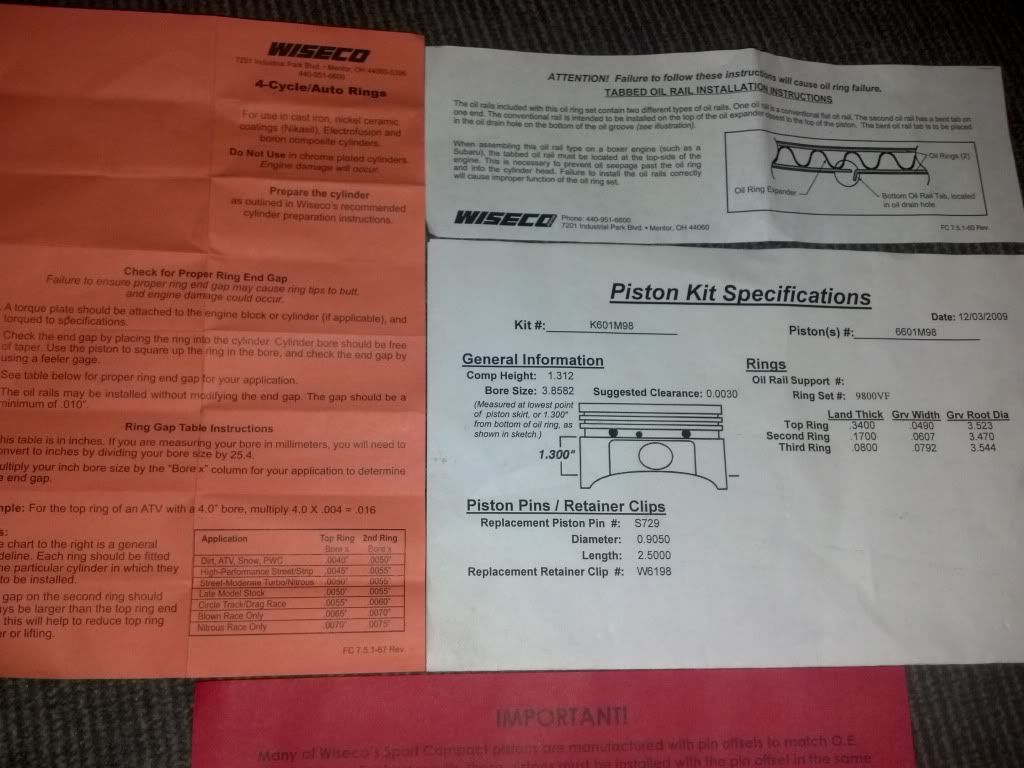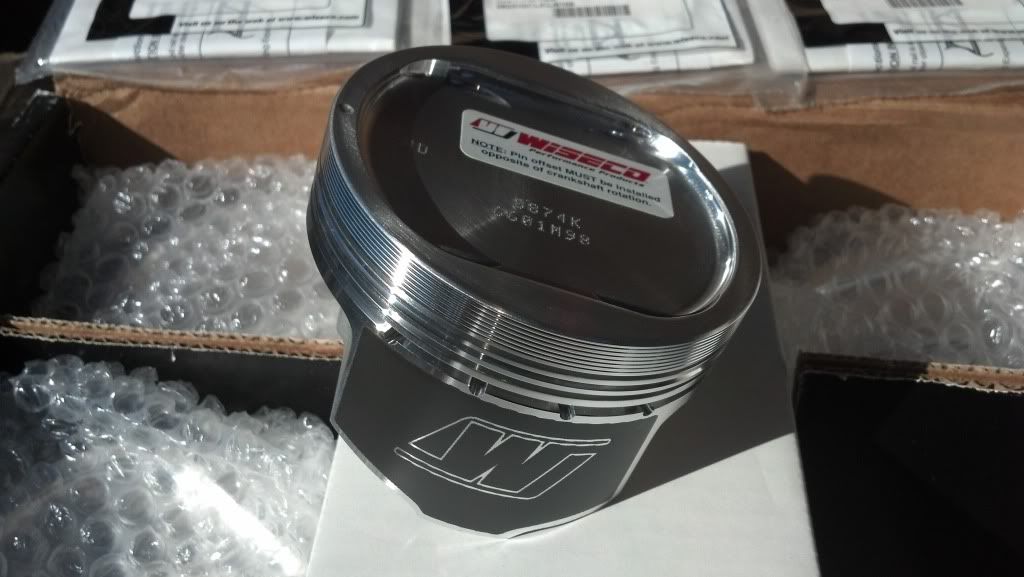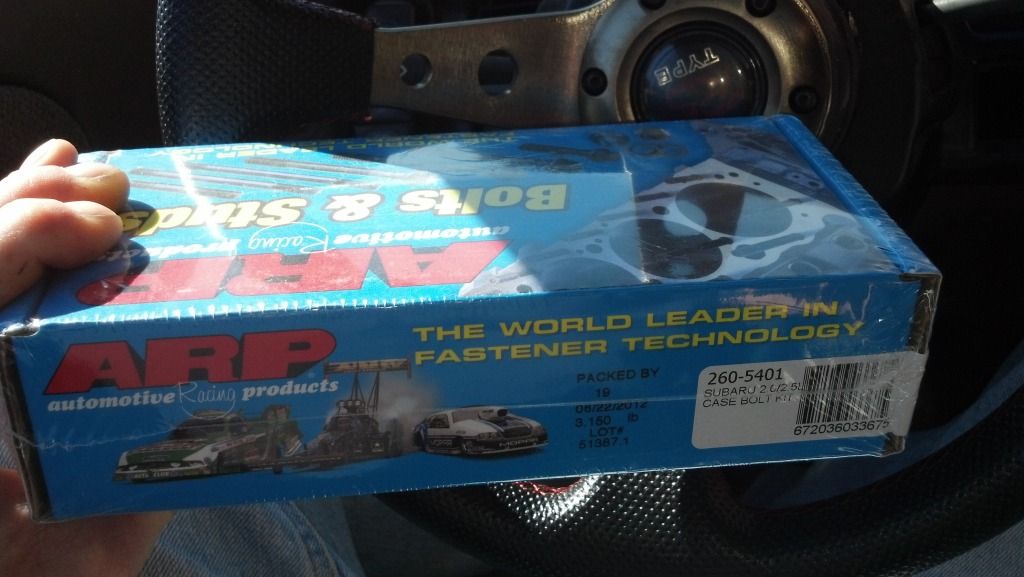 I wanted to go with Clevite bearings but I wasn't getting good clearances and tried switching to ACL bearings and ended up with better clearance.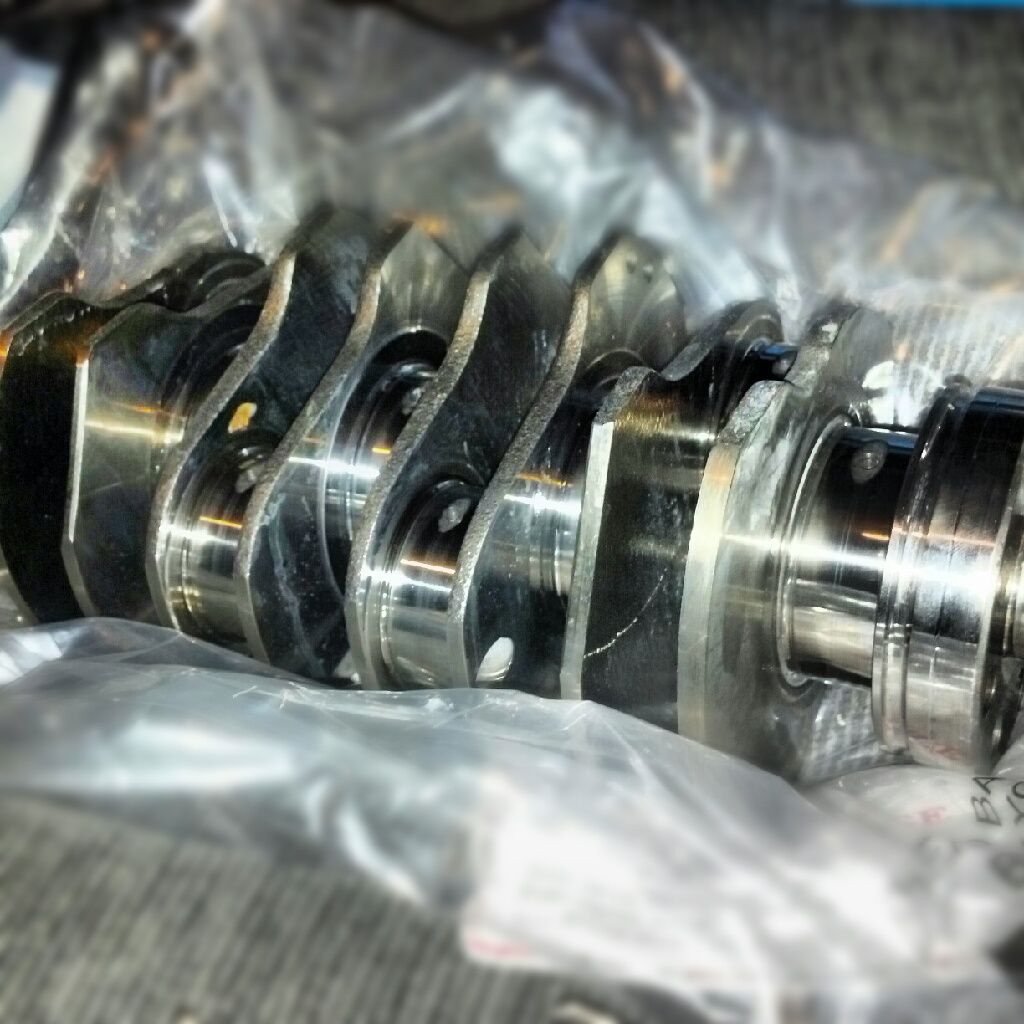 With all the down time of waiting, i stayed busy doing some exterior work: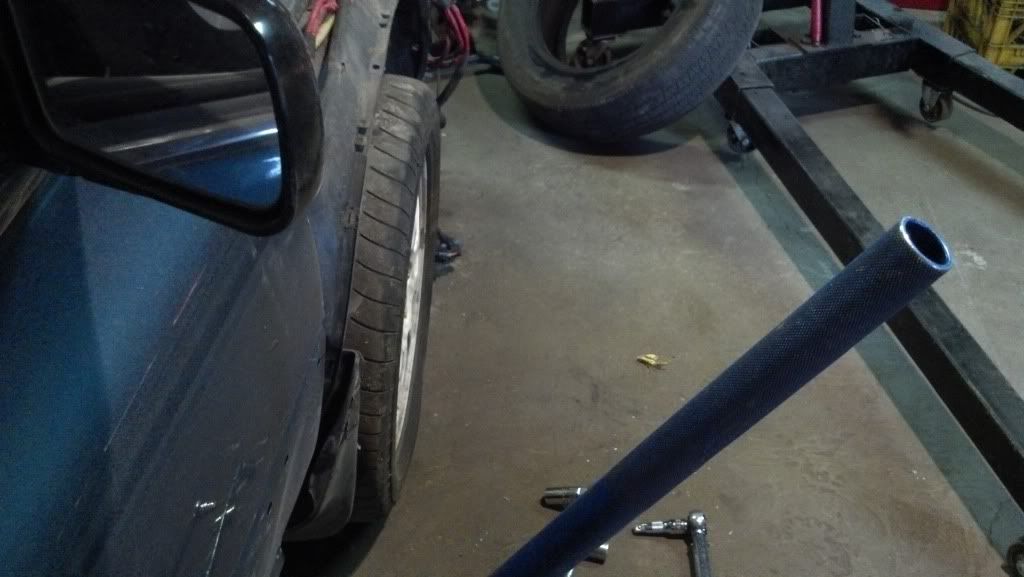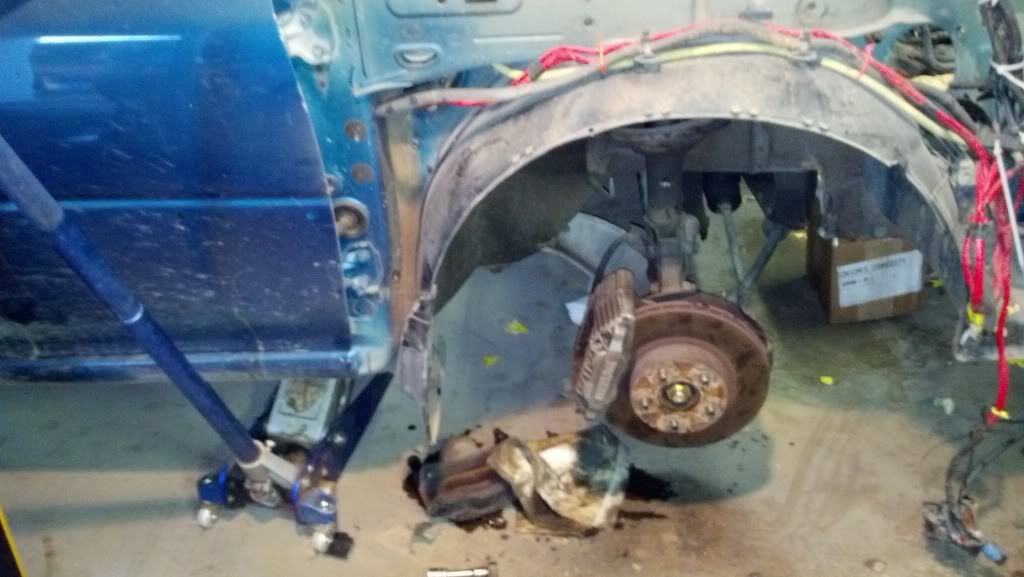 Test piece
Finished bracket looks like this
I found this picture of my first measurements and design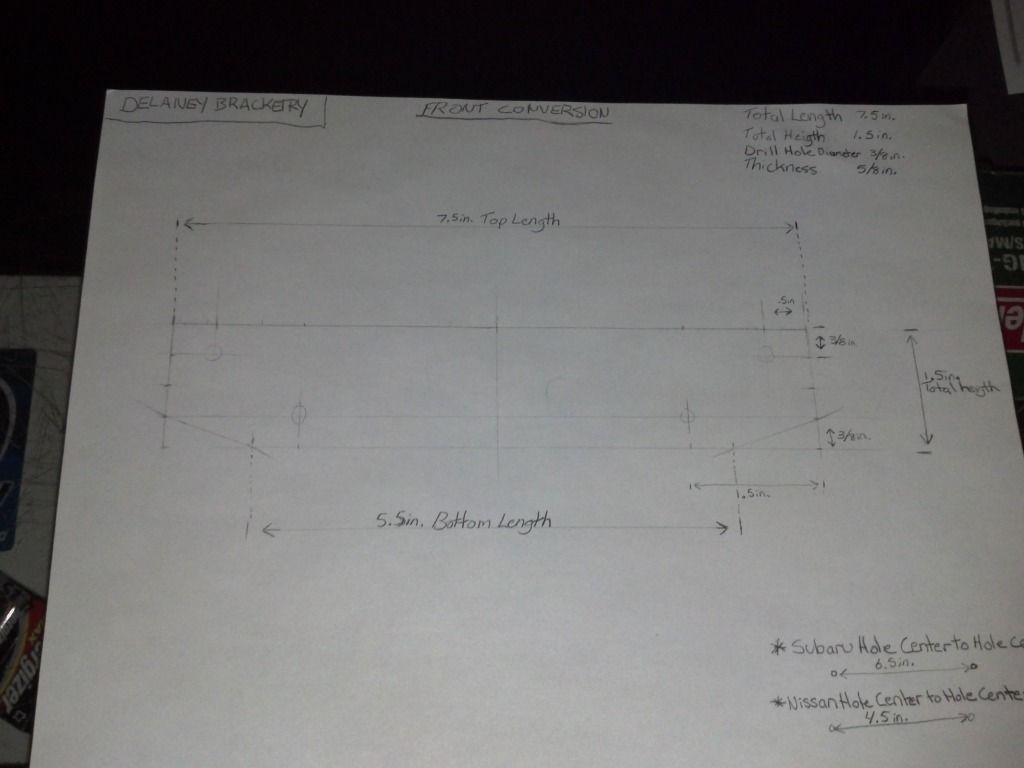 For those of you reading through, if you have never seen this brake conversion here is a good picture for reference:
The rear calipers will also need adapter brackets, I used these KartBoy adapters for the Subaru 2pot conversion (Nissan and Subaru rear calipers mount very similar)
The biggest reason for doing Nissan brakes - $200 for all four(4potFront/2potRear) in remanufactured condition.
I managed to get some body work done as well during the down time, my Impreza's original color is a blue green metallic #304, the plan was to paint the hole car forest green but the stock color really had grown on me over the years and I have never seen a 2.5rs in this color so it would be trully unique: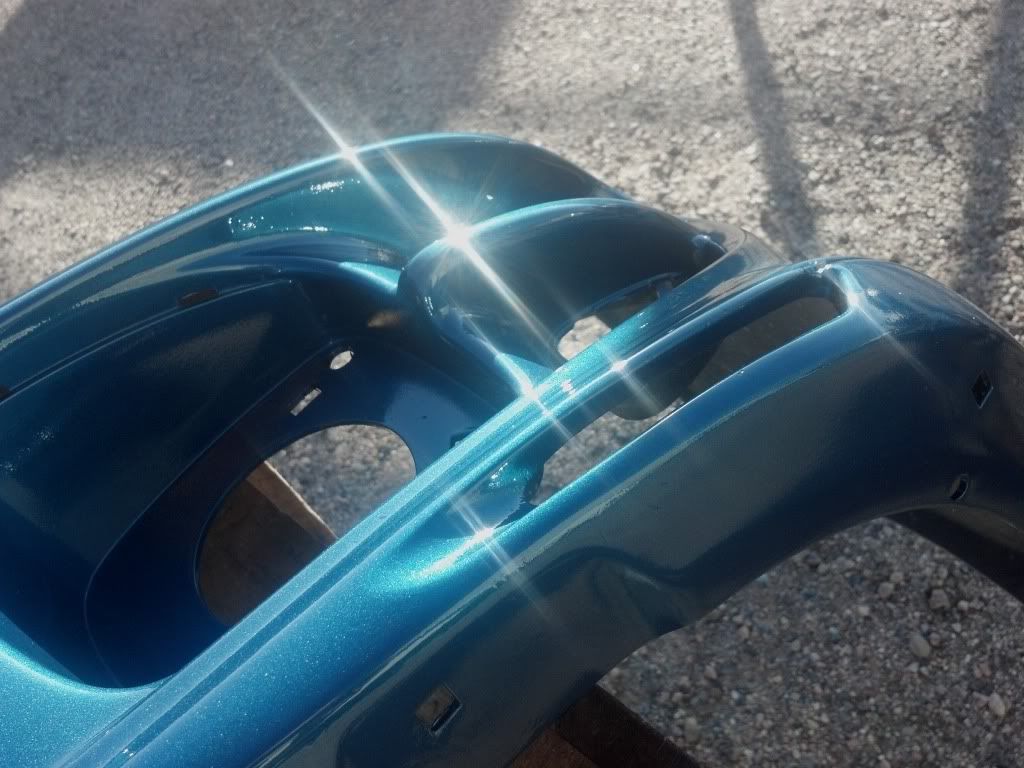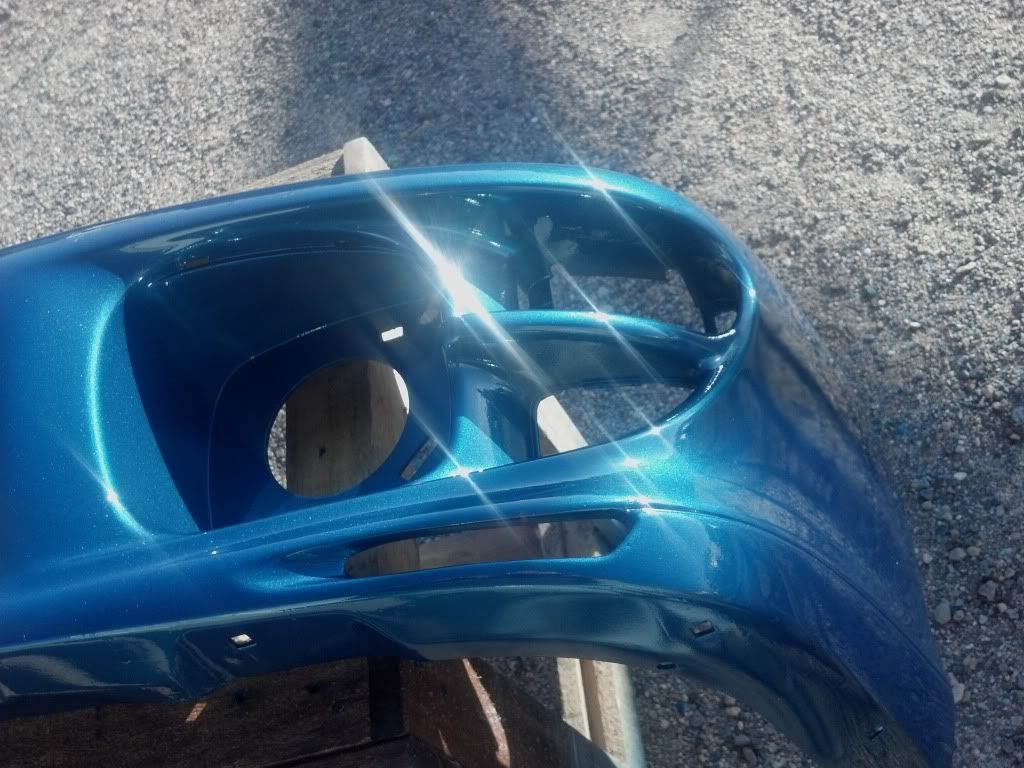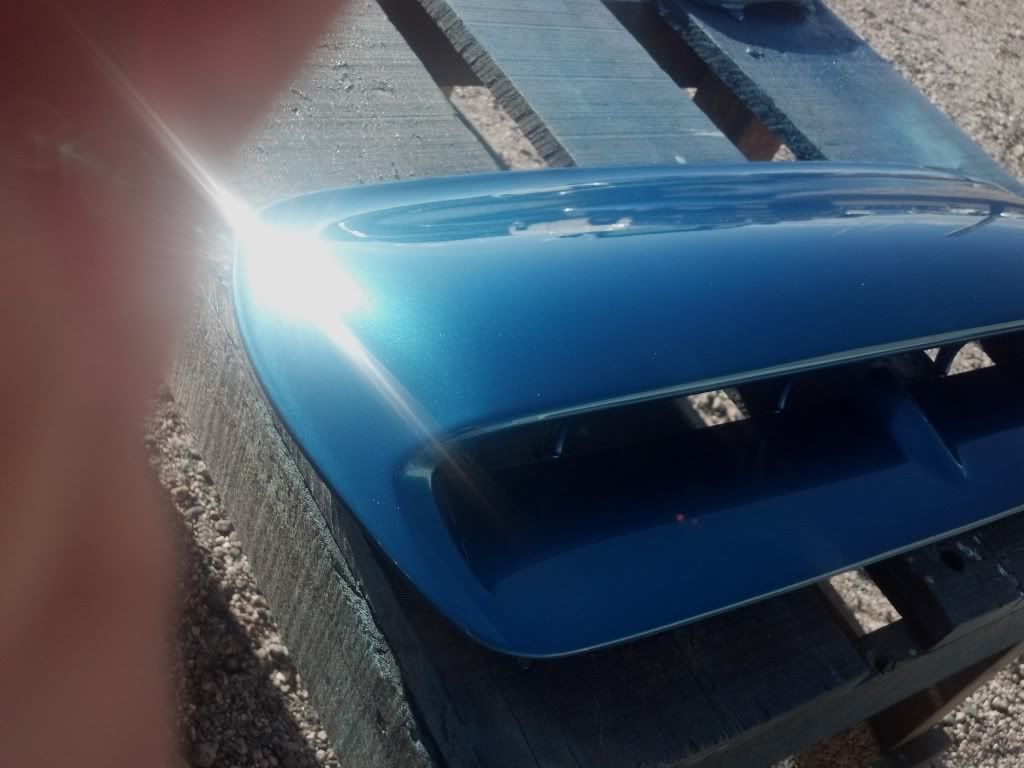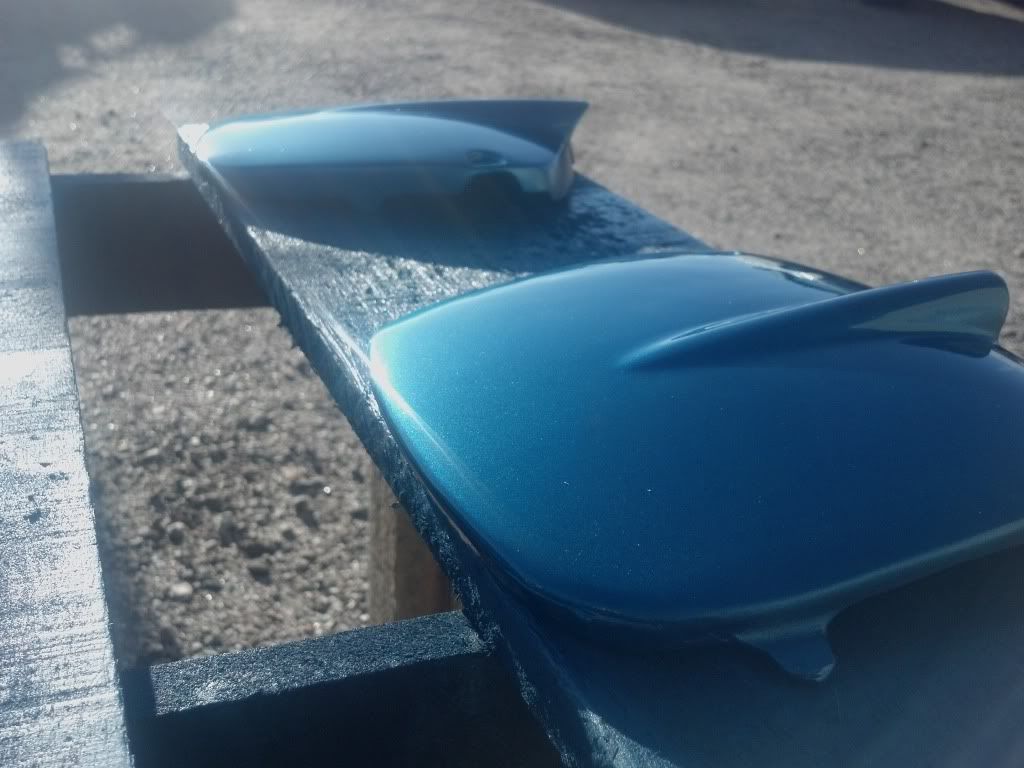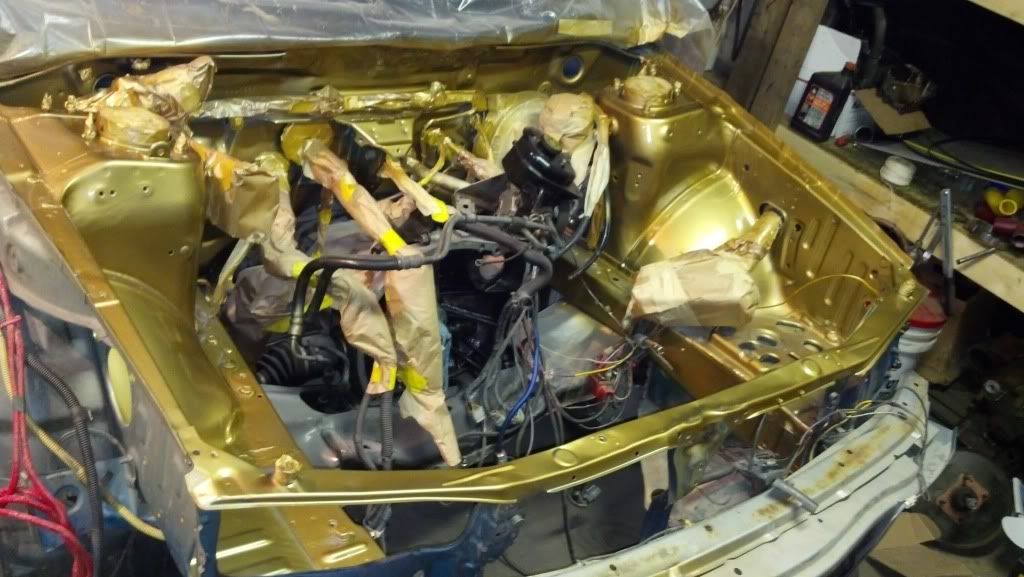 Then I became addicted to painting..so I kept going!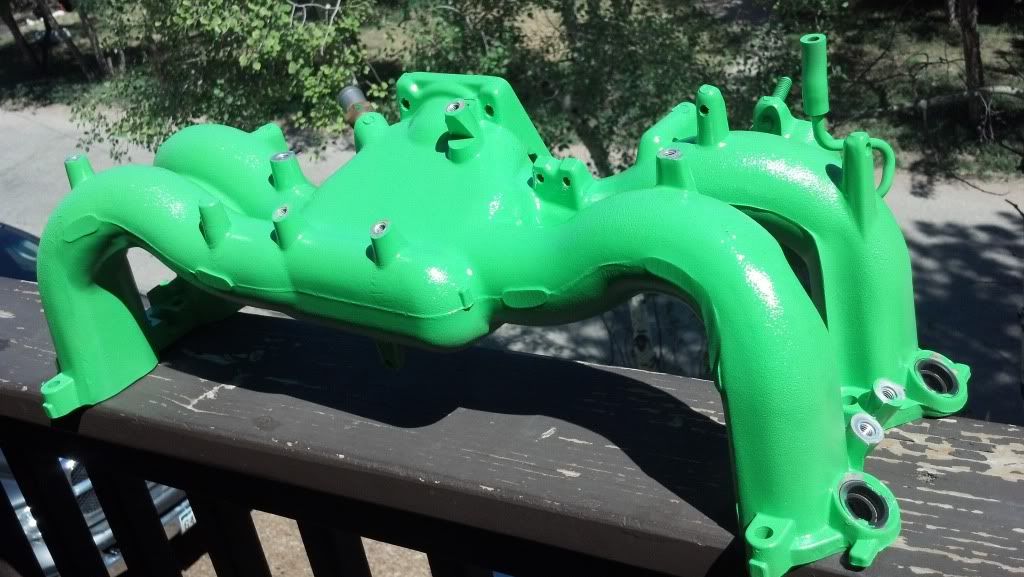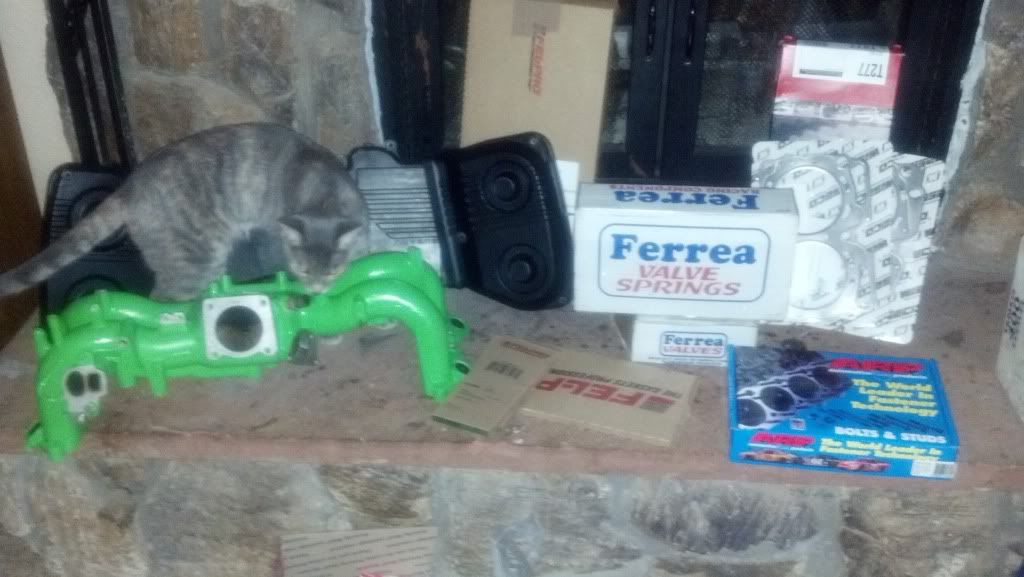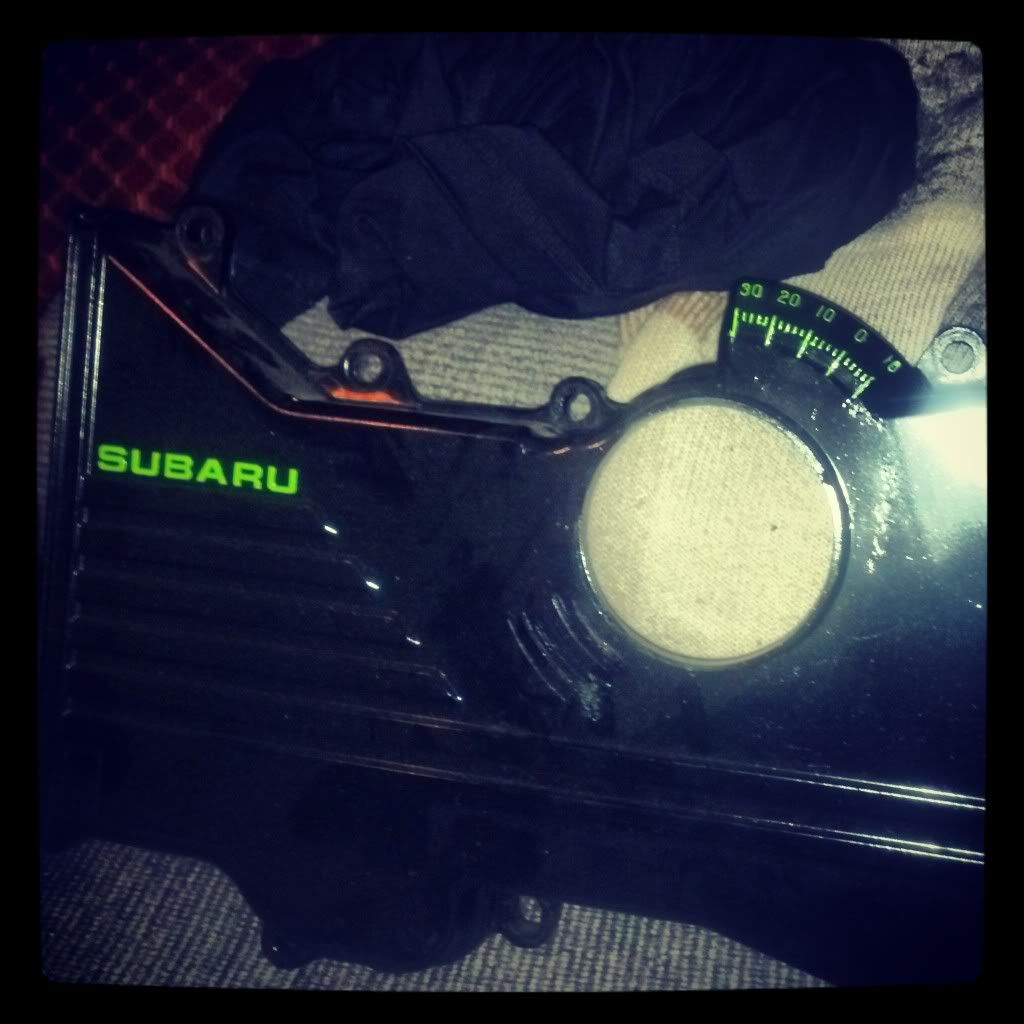 I even took apart my old and weathered looking throttle body and painted all of it.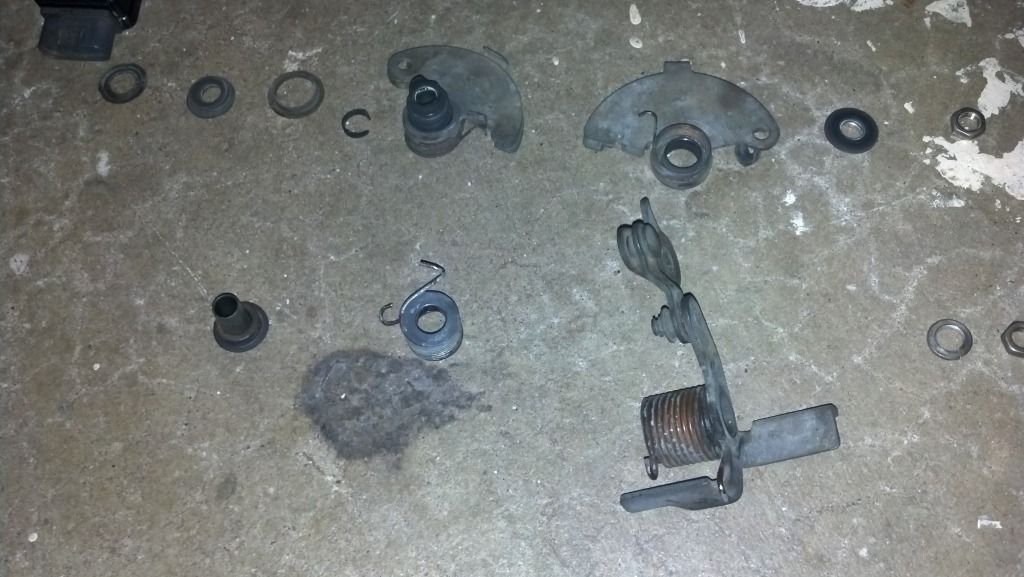 Engine going back together: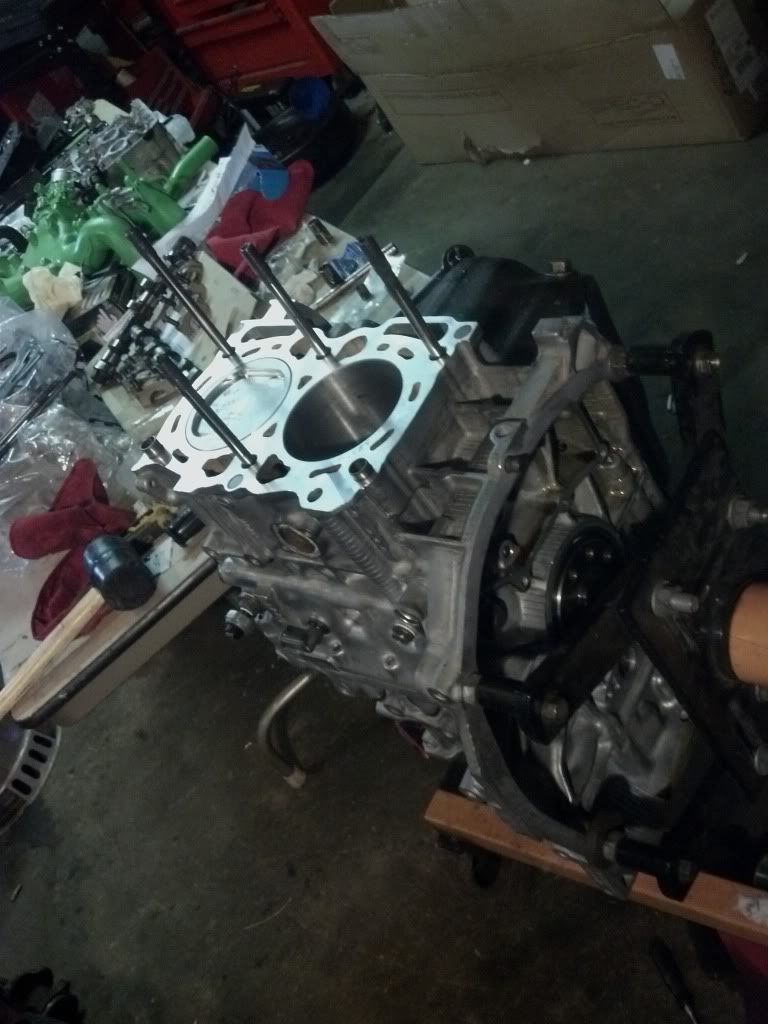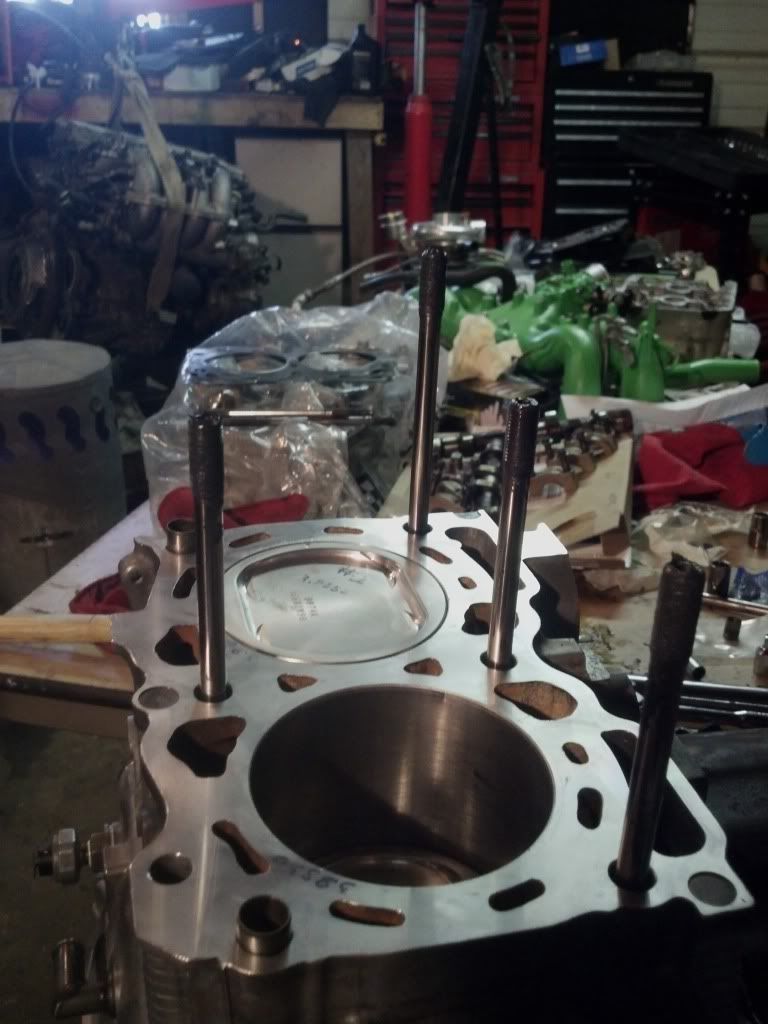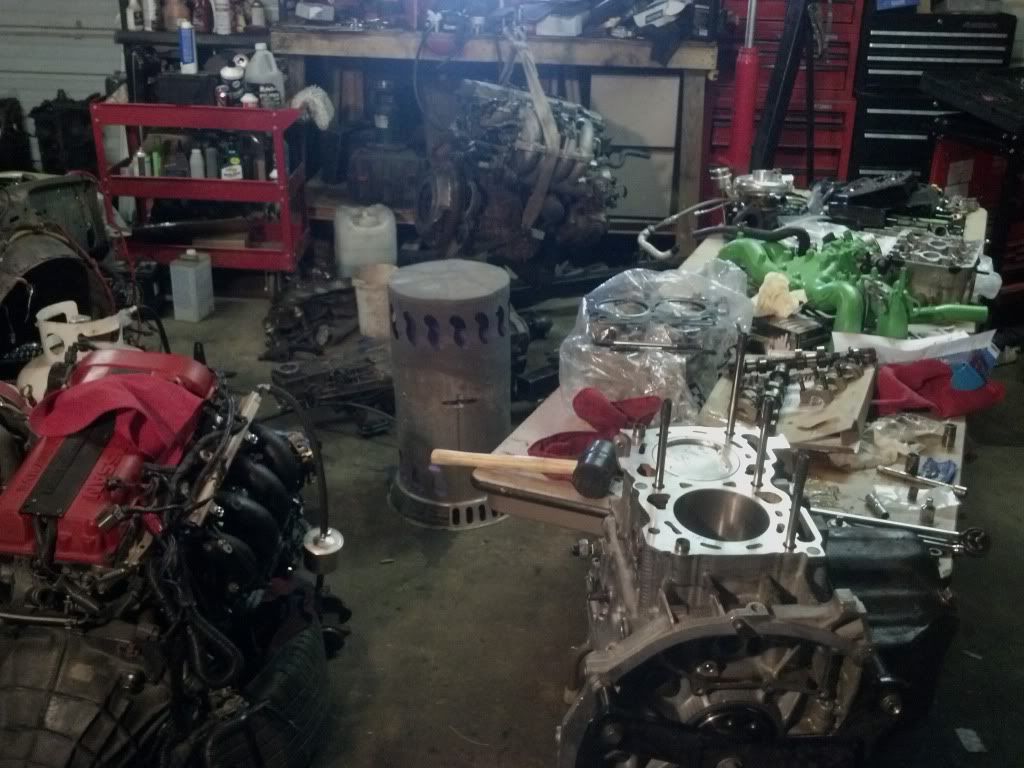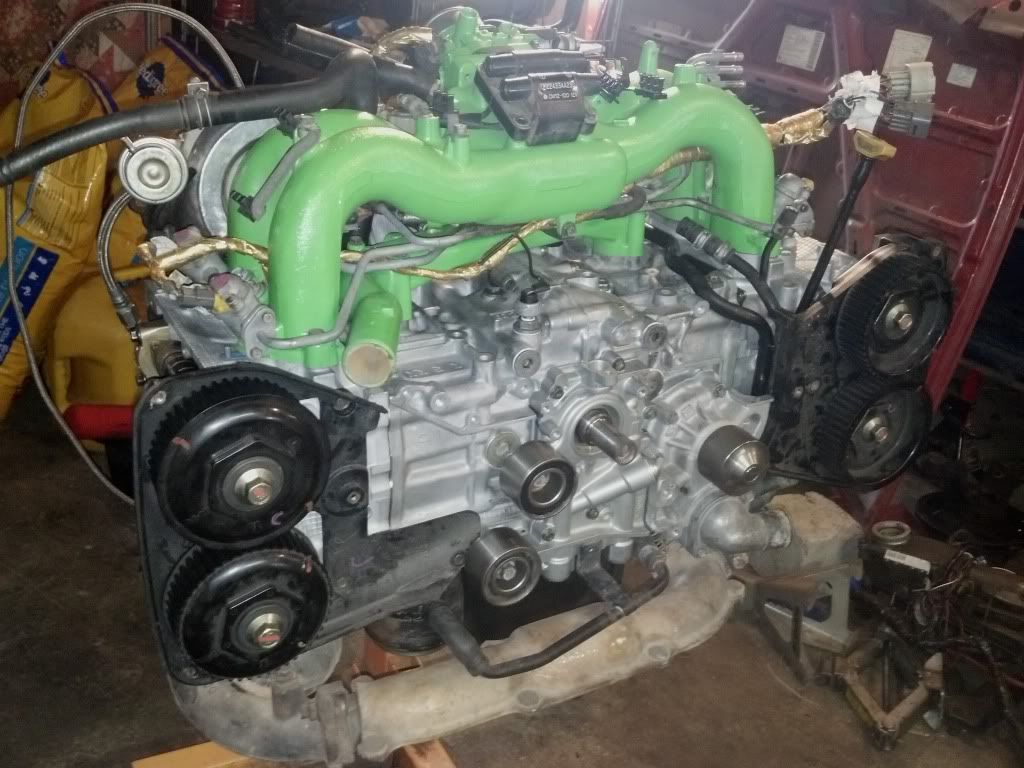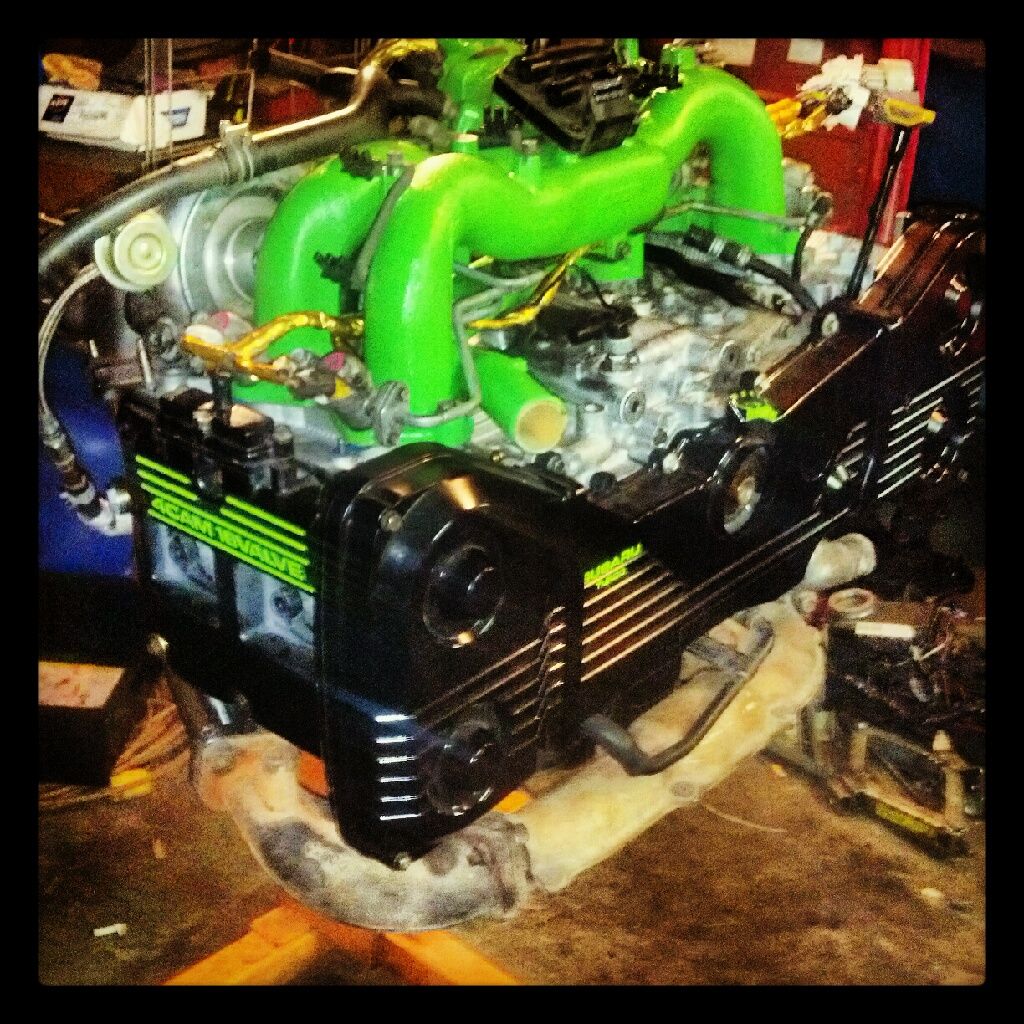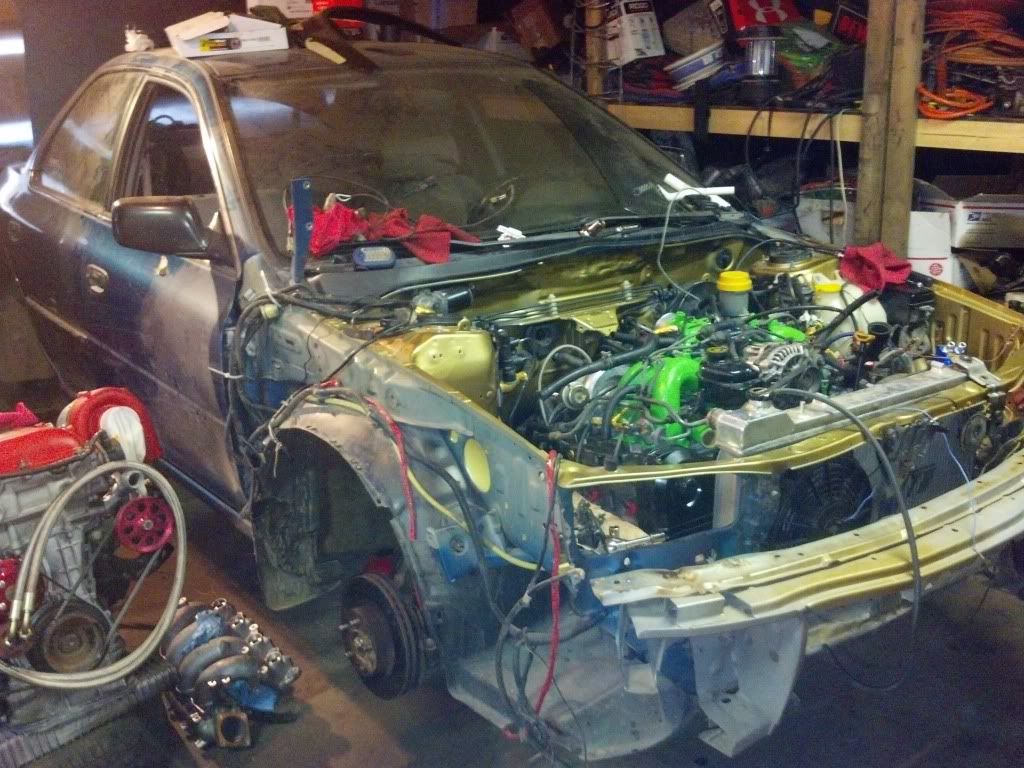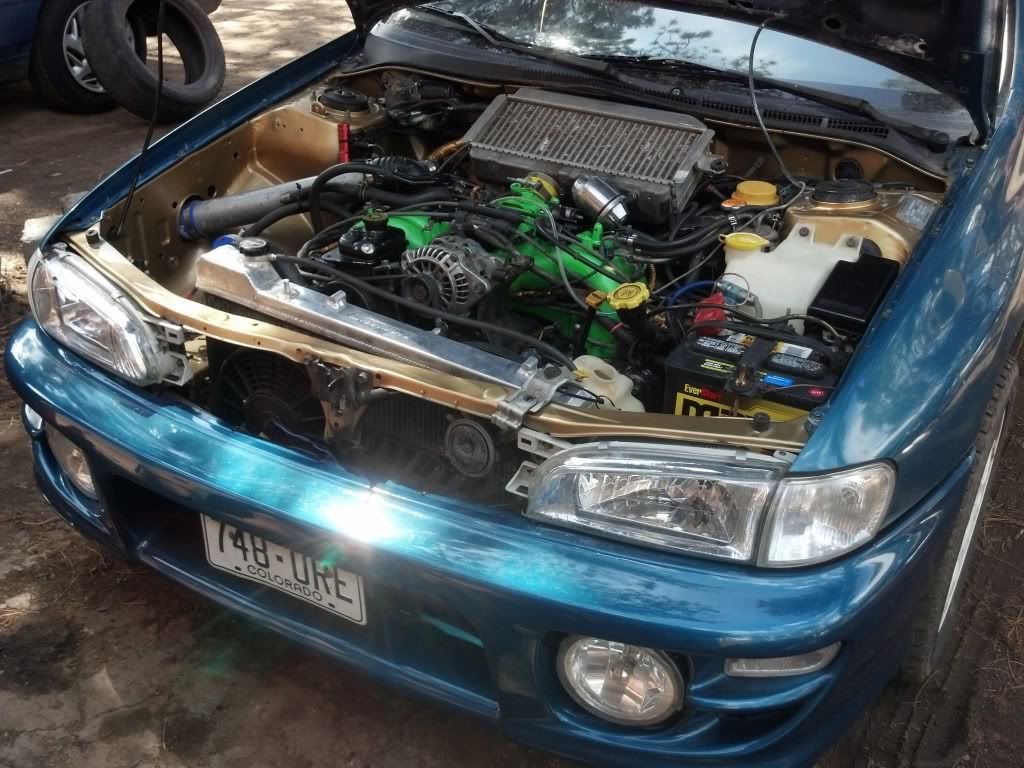 A fresh looking car: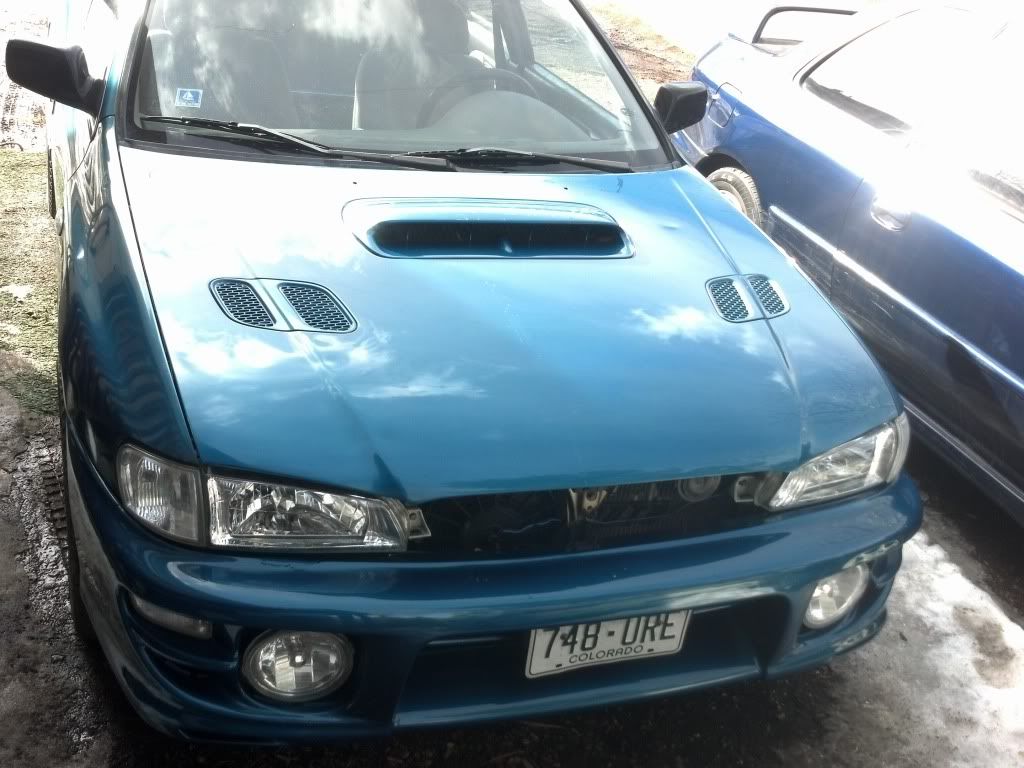 Some supporting mods:
I chose to use a RobTune ECU for engine management
Td05 turbo
USDM Sti yellow sidefeed injectors(sent to Witch Hunters for refurbishing)
Things to take note on:
If your trying to do a ej25d swap and plan to use your 4bolt coil pack wasted spark, try to pick up a 25d intake manifold with 4bolt holes for the the coil pack. Most only have three. I found out the hard way after I already cleaned and painted one, then realized I should use the other one.
You should use ej25d plug wires as the ej22t plug wires are to short for comfort.
Their is a fitment difference in the 96' ej25d valve covers from the 97'-98' valve covers. I wanted to use the 96' valvle covers (the cool ones that say 4cam16valve) I painted, but when I went to put them on the 97' heads I could see that area around the spark plug holes are different. One is more round and the other more square. This sucks because as far as I can tell only 96' covers came with lettering on them.
Another problem I ran into , when switching to a ej25d manifold you only have one vacume port, in which case you can run everything off one port or drill/tap another hose barb in the manifold.
Current mods list:

--Engine
1991 Legacy turbo short block over bored to 98mm
Wiseco 98mm pistons
Eagle Rods
1997 Legacy 2.5L dohc heads
Ferrea Racing +1mm oversized valves (ex & in)
Ferrea Racing dual valve springs
Ferrea Racing titanium retainers
Ferrea Racing valvle locks/guides/shims
Mirror finish decking of the heads and block
Completely blue printed
Multi angle valve job
Ported and Polished
12mm oil pump
ACL coated race bearings (rods & crank)
Wiseco .051 MLS head gaskets
Gates racing timing belt
Treated, polished, balanced crank
ARP case bolts
ARP head studs

--Gearing
4.11 final drive tranny w/ LSD diff
ACT 10lbs flywheel
ACT 6puck sprung clutch
4 new axels (snapped 3 since engine conversion)

--Exterior

2001 2.5rs front bumper
2001 2.5rs hood
2001 2.5rs coupe spoiler
2001 2.5rs glass head lights, fog lights, clear corners and blinkers

--Interior
2002 USDM wrx seats (front & back)
AEM lambada A/F gauge
Harbor freight boost gauge
STACK oil pressure gauge
Sunco oil temp, water temp, voltage guages

--Brakes/Wheels
Nissan r32Skyline/s15Silvia/z32 300zx twin turbo Aluminum 30mm Front calipers
Nissan r32Skyline/s15Silvia/z32 300zx twin turbo Aluminum 2*mm Rear calipers
Slotted Only DBA T2 Front rotors 316x30mm to clear 16in. Rims
Power slot 06 wrx rear rotors 290x18mm
Custom brake brackets
16' LGT snowflake rims painted white
1in. Wheel spacers all four
Goodridge SS lines

--Supporting modifications
Custom cold air intake
03' usdm wrx top mount intercooler
Silicone OBX intercooler Y piping cut and custom fit
tight ass 90° silicone turbo intake pipe
3in. Catless TBE
HKS series 3 BOV
Hallman manual boost controller
Walbro 255lph fuel pump
TD05 turbski
06' usdm Sti yellow side feed injectors
RobTune engine management

In the future mods:
Gravel rated fully adjustable suspension
Approved roll cage
Widebody/fender flares
Wider rims
Standalone Ecu
Fuel cell

More pictures: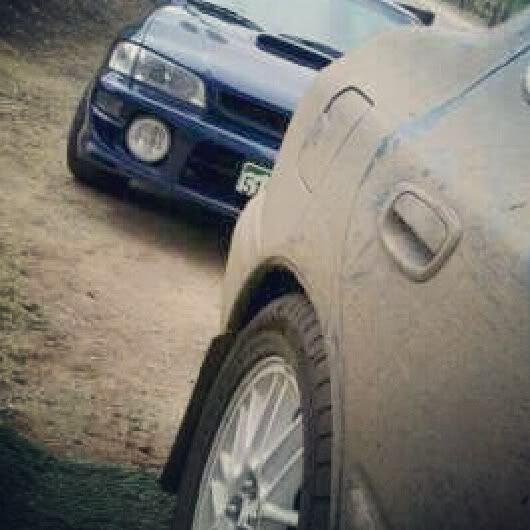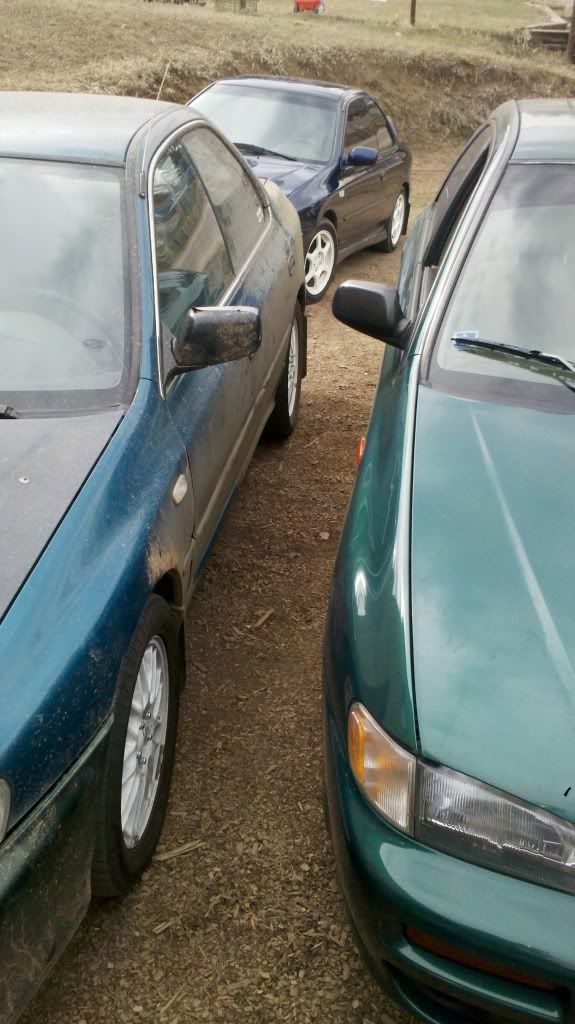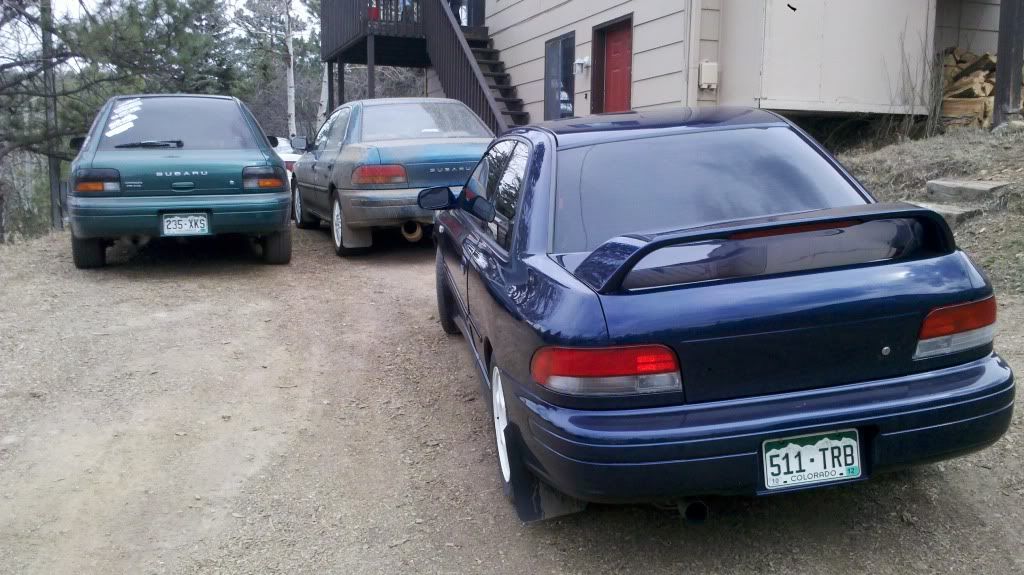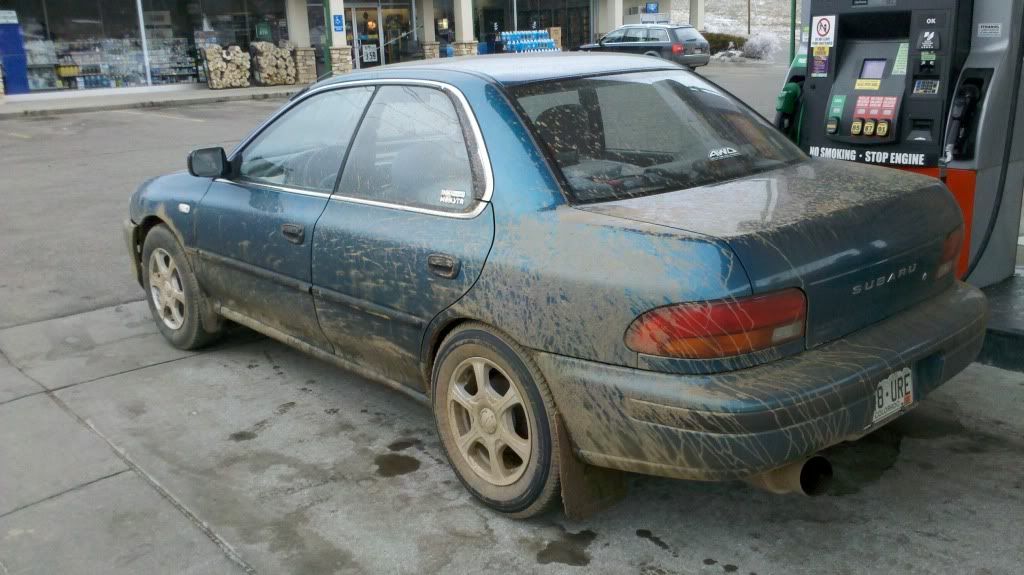 Yes ej22t does fit in the back off Nissan 240sx