G'day there, some of you will recognise me from SL-i and lgt.com. I have been putting off signing up here for a long time, but for what reason I have no idea, because I love the good ol first gens muchly. For years I only had BG's, and it was good. Beast, my second BG, a GTB Limited which I STi swapped, which I've had since late 2007 will always sit as No.1 for me, but recently a little rascal has joined the family by force.
Meet Blighter, the BC that shouldn't exsist and makes no sense to those around me.
Back in April 2011, I received a PM from a friend out of town, asking me to take a look at a car for him, a non turb BF. When I contacted the seller, we found it had sold. It got me browsing however, and I found a wee black BC. Here's a quote from the day after
Sent the guy a txt, it was still avail, so i organised a viewing time at around 4pm today. Went over after my flight, had a look, she seems fine, no bad rust anywhere, just those warrant of fitness items. I offered him $500 cash, as is, where is, and it was a deal

She's mint, the clear coat is in better condition than the GTB, the shocks are fine, the engine is perfect, the auto is fine, the wheels need swapping, and i might have a rear wheel bearing fucked, but other than that, and the wof items, she's actually in damn nice condition!

Going to be a nice fix'n'flick, or i might even keep it for a runabout, so i stop treating Beastie as a shopping trolly!
"Might even keep it as a runabout" eh...
The car is a BC3, Ti Type-S, a mid range spec. Highest spec 1.8 (SPFI too, not carby), the BC5B Ti Type-S legacy's were blacked out from factory, with the little chrome strips under the window, in the garnish, the door handles etc are blacked out, leaving only the bump strip around the car. They also received all the mod cons of the higher specs like climate control, central locking, power windows, rear speakers, wiper and spoiler etc, that most the other 1.8's didn't get (standard on brightons, VZ's etc).
http://i197.photobucket.com/albums/aa20 ... ypeS03.jpg
http://i197.photobucket.com/albums/aa20 ... ypeS04.jpg
And the state of it when I bought it.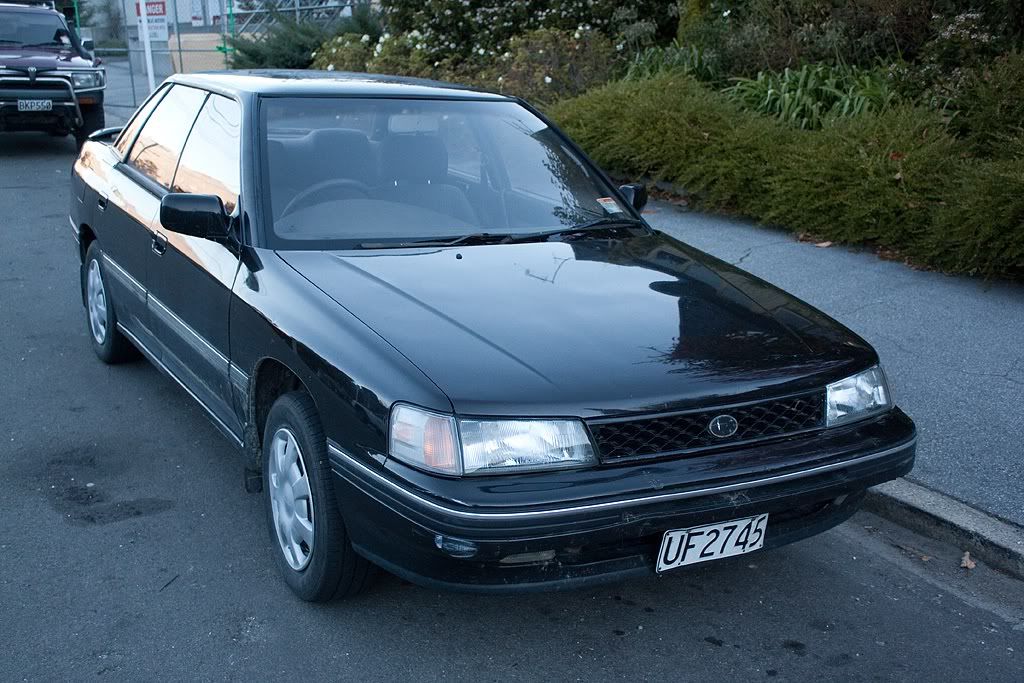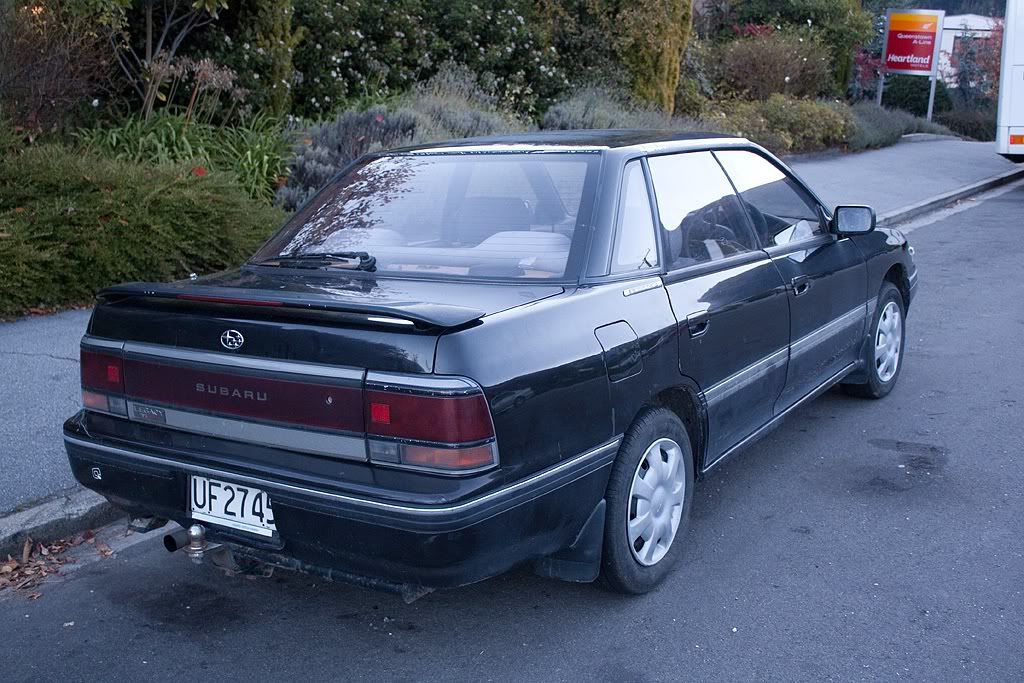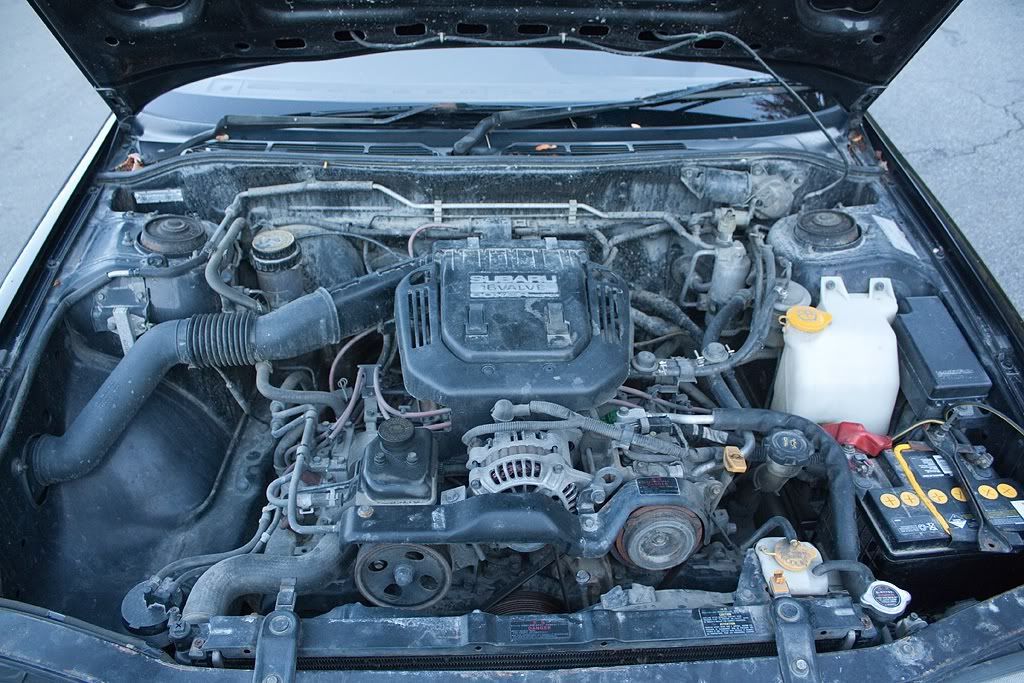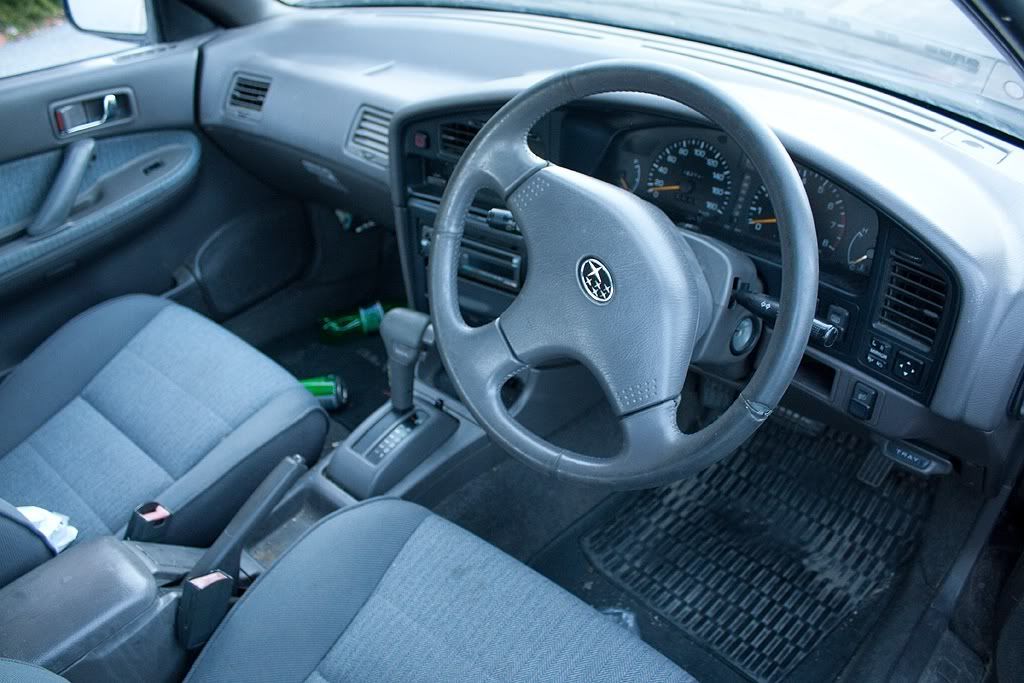 So fast-forward a couple of years, and I've just finished dropping an EJ20D with STi intake manifold and throttle in, manual converted, turbo loom, running on a possum link fully tunable ECU. Plans are to build a 22G and turbo it, watch this space.
Mod list:
And the mod list, getting ever longer! Half of the work done has been resto stuff!!
Suspension and braking:
BG GTB bilsteins all round, donated from beast.
BG GTB rear sway bar and 'solid' rear lateral arm conversion. Donated from beast.
Rear subframe locking bolts
Rear alloy sway bar links
GTB 19mm sway bars
Front turbo subframe
K-brace
Alloy Arms with balljoin style sway bar links.
Engine:
Converted to EJ20D, HLA from a BG5A
Converted to Manual, 5spd N/A VZ-R BF5C
STi EJ20K Intake manifold and large bore throttle
250T BG9A Intake pipe
BF5B Turbo headers + 250T Up and down pipes.
BF5B GT Turbo engine loom
Possum link G1 ECU
Cosmetic
Full face lift GT black leather interior.
GT momo steering wheel.
GT front bumper
BG5A GT BBS summer wheels, with Bridgestone RE-002's
BP 2.0R stock winter wheels, with Dunlop snow tyres.