Alright, im going to edit my first post and put my mod list here so you dont have to look thru the thread....
*Updated mod list*
Mods:
Engine:
EJ22T closed deck turbo block
EJ25D N/A DOHC heads
EJ20H Turbo camshafts
EJ25D intake manifold, with egr removed.
UEL tubular header
2.25 flex up pipe
38mm external wastegate
GT3076R Garrett turbo
800cc injectors
Custom parrellel fuel rails
Walbro pump
Hydra Nemesis 2.6 stand alone
3" custom made downpipe
3" custom stainless exhaust, no cats
BPM Twister muffler
2.5" custom made tig welded stainless chargepipes
CXracing FMIC core, inverted mount
Samco 90 deg. fittings
SSQV BOV
HKS clutch pro twin disk
05 STi DCCD 6 speed transmission
STi Cobb adjustable shifter
Brakes/Susp:
04 STi rear knuckles
05 STi R180 LSD rear diff
07 STi rear axleshafts
05 STI front brembos stop tech pads
05 STi rear brembos, stop tech pads
Zeal Function inverted monotube coilovers, 8k/6k springs
18x8.5 Volk Racing RE30 in matte gunmetal
235-40-18 azenis 615
Other:
Lexus Matador Red Mica paint 3R1
94 LGT sideskirts and rear lip
Custom scooped hood made out if 2 hoods
07 STi lip
Custom hatch spoiler made from lexus rx300 spoiler
Touring Wagon front bumper cover
06 STi diffuser
Black housed headlights
6000k dual beam hid's
Fog lights made from acura integra projectors with 6000k hid's
Tinted tails
Blacked out chrome trim
Autometer gauges above radio, Boost, Oil press. Water temp.
STi shift knob
Pioneer AVIC nav unit
4 channel amp for upgraded component speakers, 2 channel amp for 10" sub
92 Sport Sedan Suede door panels, and front seats.
This below was back in 2006, when i got the wagon...........................................
hey, new member here...been looking at your forums for a while, and decided to join...
picked this wagon up for 1k, 140k mi, NO RUST, which in maine is next to impossible to find. car is originally from colorado, and i guess they dont use salt there like we do here.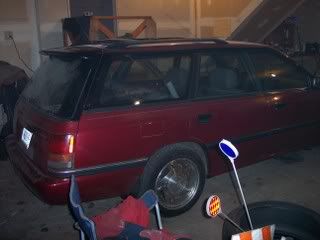 how rare is a mountian edition? this is the first one i have seen. or thats not what this model is referred to as. the previous owner said thats what it was, tho ive never heard of it. i really want to turbo this car. i have a ton of parts to do it, the EMS is the only thing stopping me. id like to find a stock turbo ecu and just use that. any comments are welcome
(ill take better pics also)
EDIT car is now a n/a to turbo conversion!! scroll down for details!