Hey everyone!
Been gone for awhile, but I've been lurking about the forums for quite some time getting information on my car.
Decided I should start my car's own thread so both you guys and I can keep track of my progress.
Unfortunately, I don't have a lot of time or money to work on this, so it'll be slow, but I'm pretty satisfied with what a 15 year old kid has done in 2 months time.
But enough of that crap, onto the car!
She's a 1993 Subaru Legacy L, the base model of everything. Only "upgrade" she has are disc brakes. No ABS, no sunroof, etc. It does have AWD though
The goal for this car is to turn it into a reliable, comfortable, turbocharged, good looking, daily driver. She'll be lowered, VTEC stickers will go on, I plan on dipping it (Not rattlecan though, I do want it to look nice, but I can't afford a paintjob), etc. Maybe not the VTEC stickers, but you catch my drift
The first thing I wanted to do was, mainly since I can't do anything else, is clean that interior!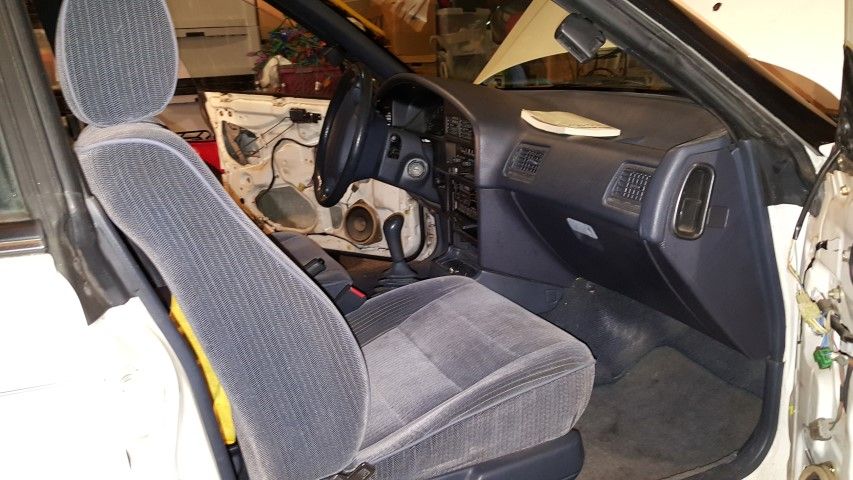 Okay, so unfortunately I didn't take a lot of photos before I disassembled it
You can see the coffee stains, mystery sticky liquid on the sound deadening and other plastics, even coffee on the headliner like srsly Nancy (Prev. owner, I'm the second)?
Center console beginning to come out!
More crap coming out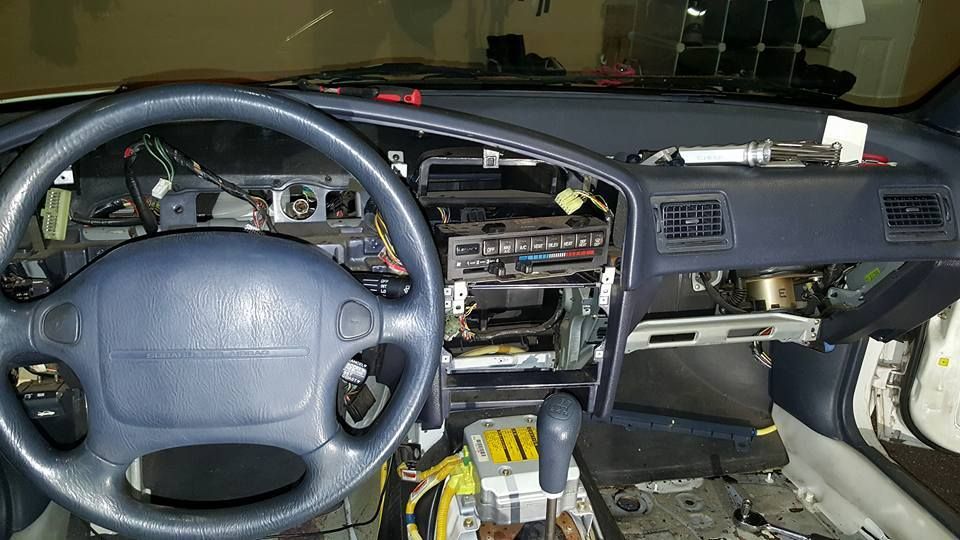 Hey, look what I did
This car was nasty. Cigar ashes were friggen everywhere. I cleaned the door panels and dash and every other little piece. You'll notice that I removed some of the deadening on the floor. Well... I went further than that lol.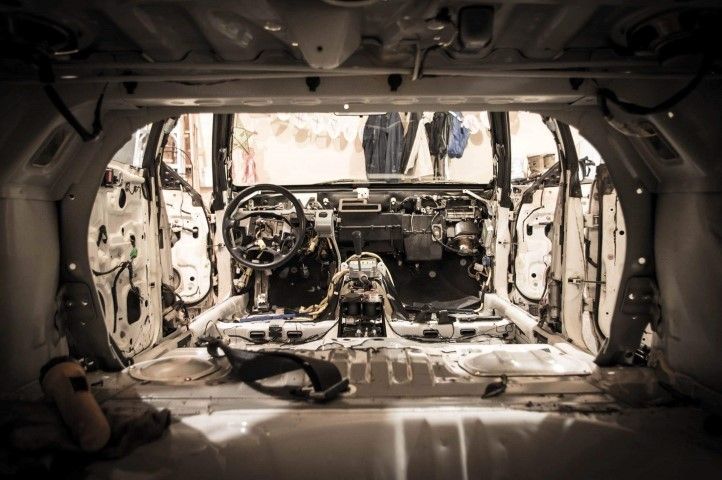 I removed every single piece of deadening with the exception of the area surrounding the shifter, since it was relatively clean and a PITA to get off. The reason for doing so is to put new Butyl based deadening, CCF foam, and a MLV layer. I used Noico deadening for 75 - 100% coverage along with the CCF Layer they sell. I also used Home Depot DB3 Acoustical Barrier for the floor and spare wheel well... speaking of the spare wheel well...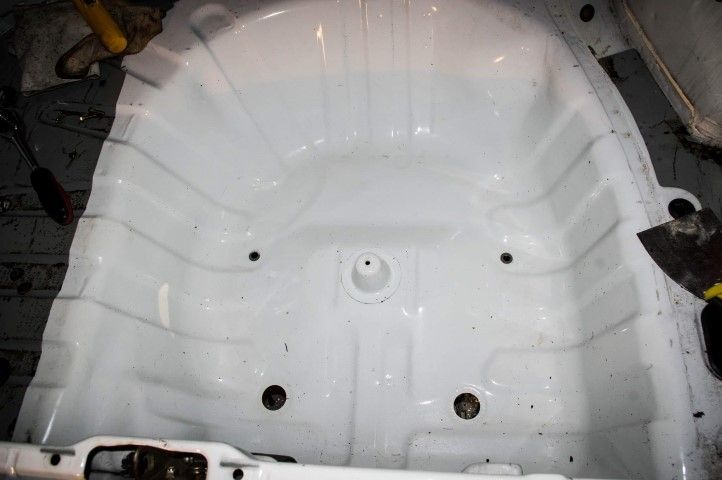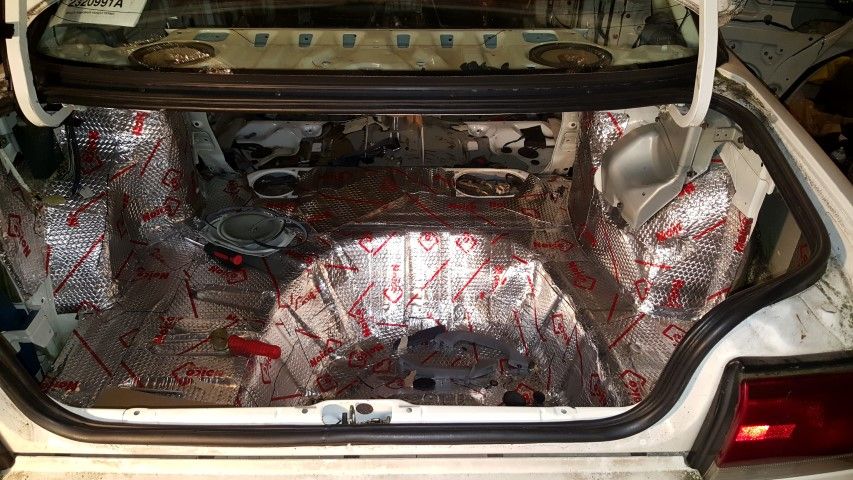 What you see there is the deadening layer. This went all over the car, on the inner and outer shell with near 100% to 75% coverage on most areas.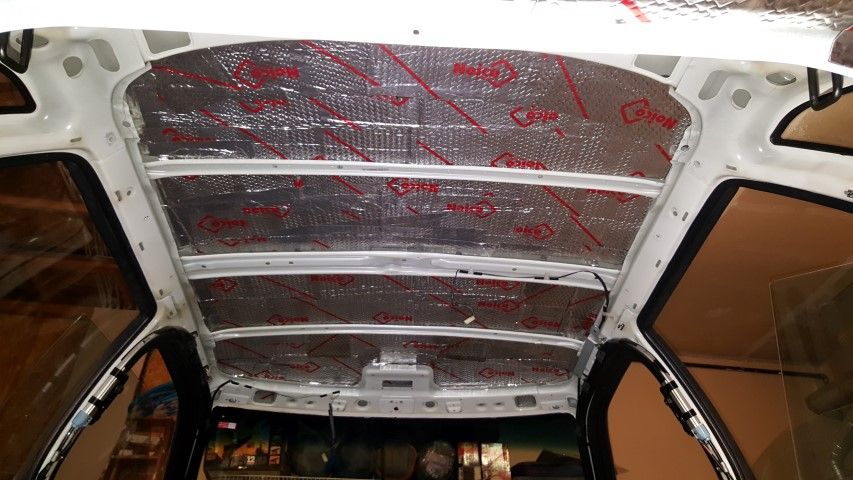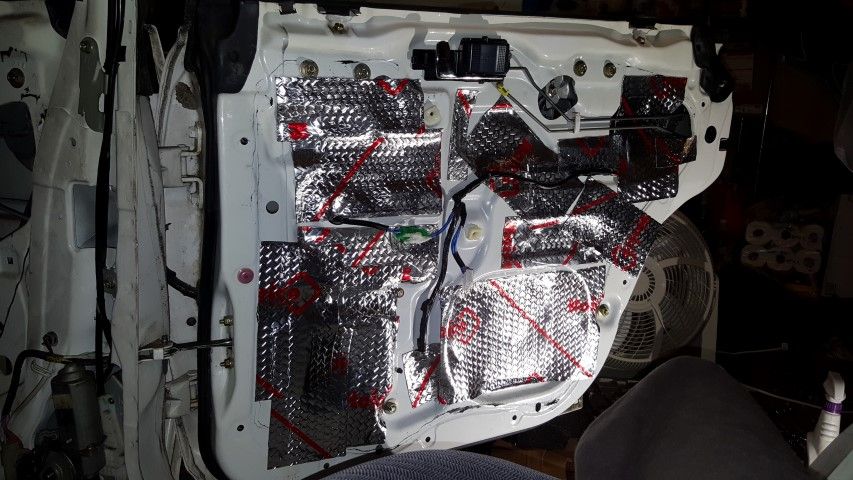 Deadening was placed in the outer shell of the door as well.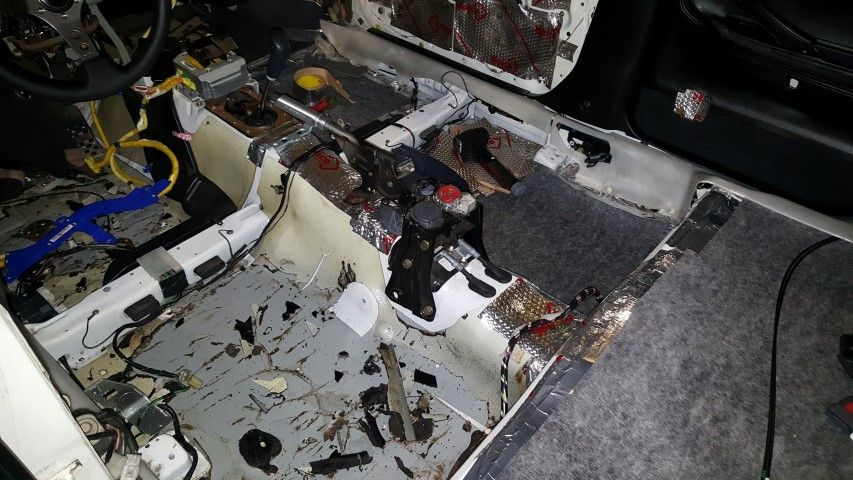 Here you can see that acoustical barrier on the passenger side floor and rear seat. Underneath is also the CCF foam. CCF was also placed behind plastic areas like my AC ducting to prevent rattles.
While doing the deadening process, I broke my AC ducting..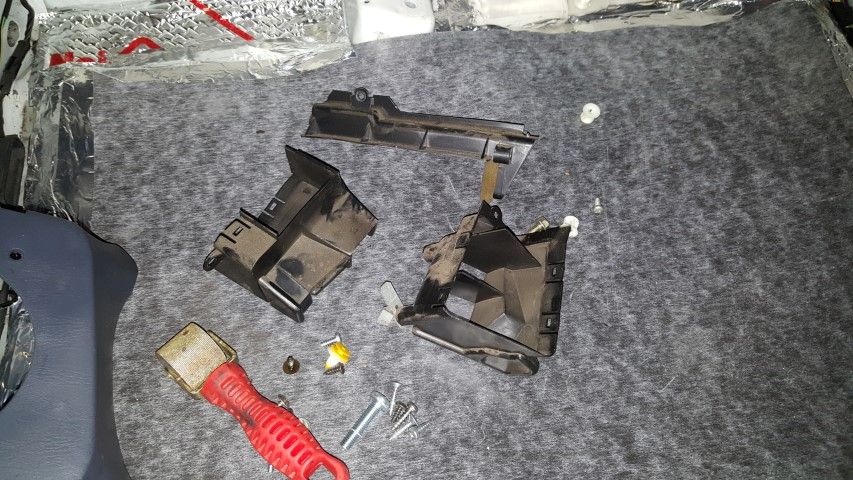 I decided to fix it the ghetto way. Aluminum tape FTW!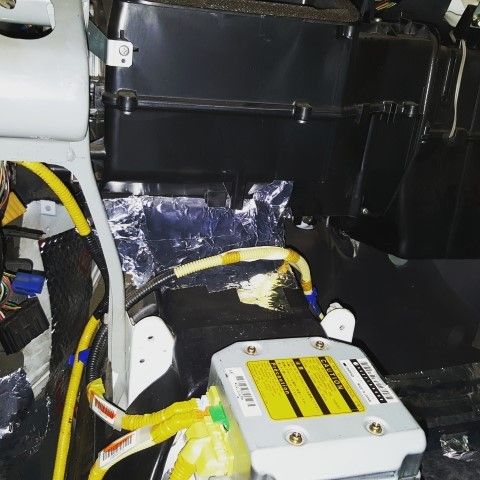 So by now, the car was completely sound deadened. I intend on putting a new audio system in and 2 12" subs are gonna shake this car without the deadening. Now, it feels amazingly sturdy and feels like a Mercedes when you close the doors. Very happy with the result.
Meanwhile, I was also painting the plastic pieces and dyeing door panels, dash, and carpets.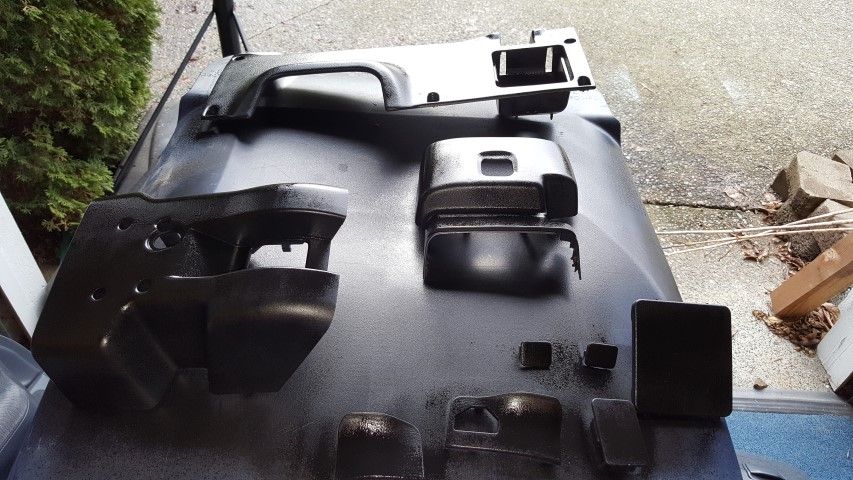 I used Plastidip for all plastics with the exception of the dash pieces and door trims, where I used metallic silver spray paint and some sort of VHT black vinyl dye for the vinyls.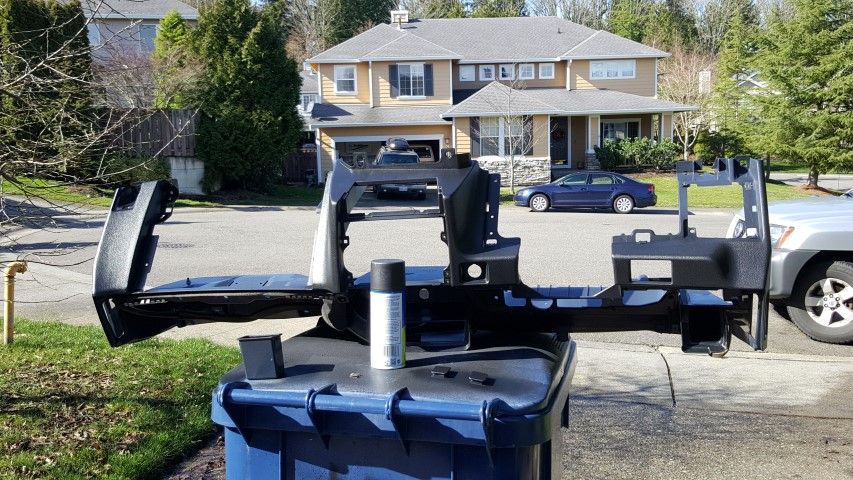 That's the lower dash piece, I had to remove the harness and separate the two pieces as one part was plastic and the other was vinyl.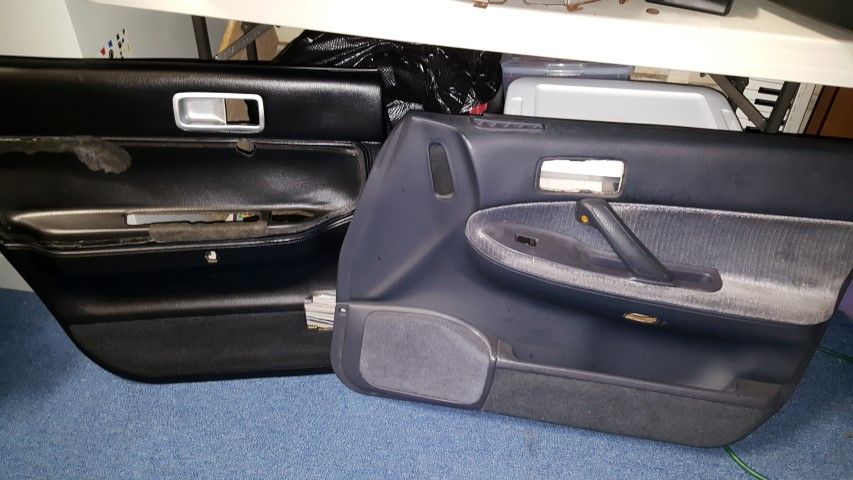 Before and after. Guys, if you're removing your door fabric inserts, be ready for some work. I went to the junkyard and got a few more door cards since I really screwed up my inserts during removal. The original plan was to remove the inserts and wrap it in suede. Not even an upholstery shop would do it. I re-dyed the new door cards black and kept the door inserts on this time.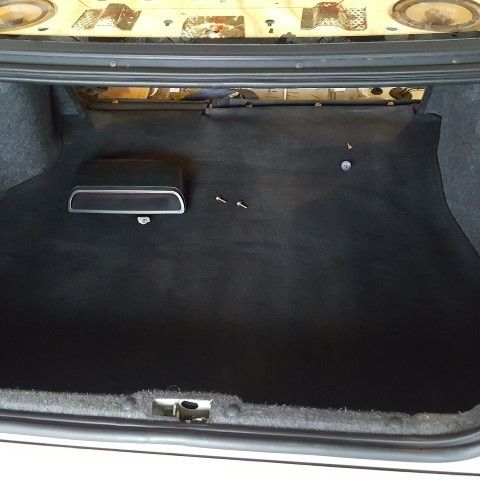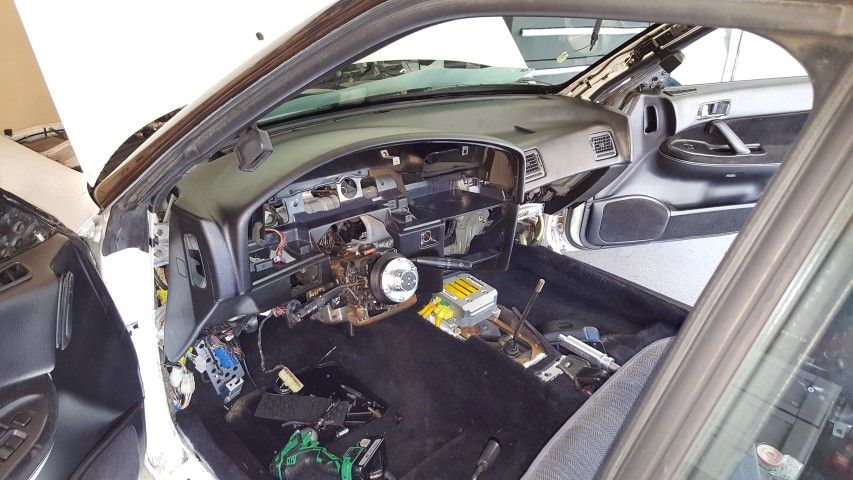 Dyed carpet! Dipped the rear light as well. The carpet looks dirty, but it's pure black in real life. Eventually, I got to the point to where I could put the dashboard back in. So now, it was dyed and cleaned. Every little plastic piece was dipped. The headliner handles were dyed black, etc.
After screwing up on the headliner trying to wrap it myself, I took the headliner and rear seats to an upholstery shop to get professionally done.
As of now (4/10/16), I got the headliner back. It was foambacked and wrapped in suede, the original material was removed.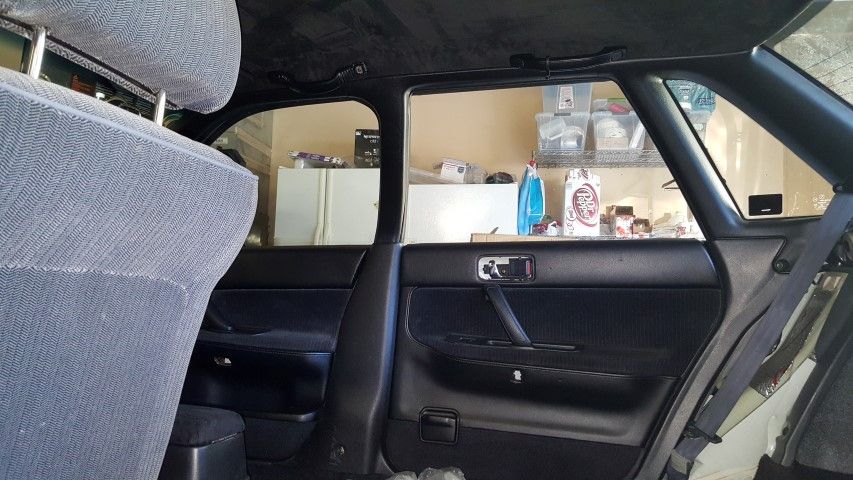 Bad photo, but you can see how well the plastidip turned out on the trim pieces. Note the suede headliner. Also wrapped the center console armrest piece in suede myself. Again, every little plastic piece is black now. They were blue grey originally.
So, stuff was getting put back together.
Here's how it looks right now: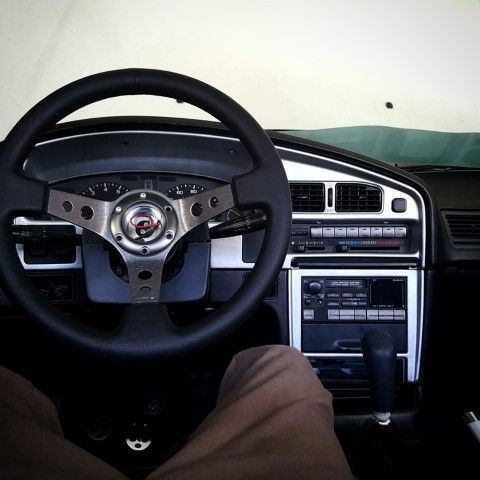 Not bad huh? I also put a suede shift boot as well as an NRG Ebrake handle on. More photos later. I have an NRG shift knob, but it was meant for a Honda, so I need to get it rethreaded to our shift knob threading. I also attached an NRG wheel with an EBay quick release. Just so you know, these Ebay quick releases SUCK. Save up for the real thing. Had to remove the clock spring as well. No more cruise control.
Before I put the cluster in, I also replaced every single halogen bulb with LEDS. Made sure they were 360 degree LEDS as well for exterior bulbs. Going to retrofit projectors into the headlights later on.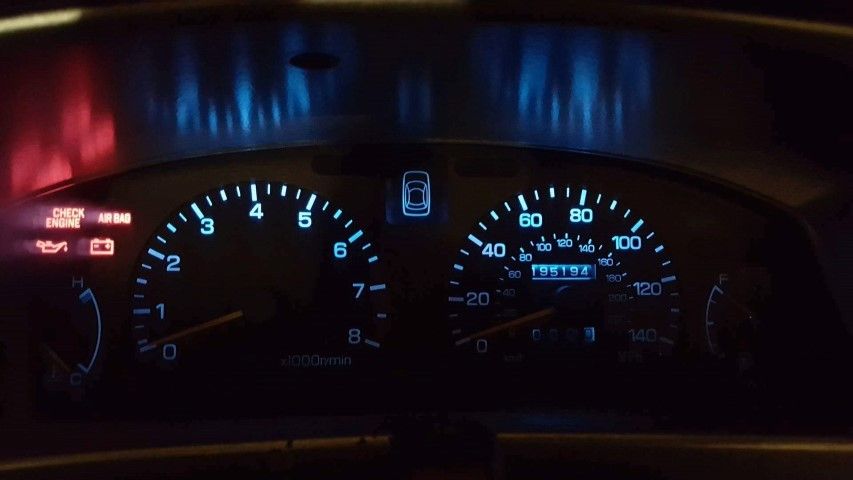 Turned out okay, going to solder in LED strips later on.
Got some new wheels too: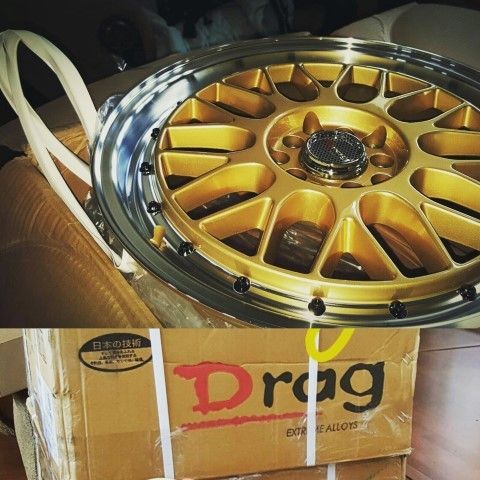 So that's where I'm at right now. I cleaned the interior, put some fancy stuff in, that's it. Wheels aren't mounted yet, need to get rubber.
I'm currently trying to get it running better now. Still need my seats as well.
The plan is to send it off to a builder, get the engine built with ACL bearings and STI Rods for now, along with a full rebuild with gaskets and other stuff that needs replacing. Has 195k miles.
Right now I have a few issues with the engine such as, when it's on ACC mode, the sound of a relay clicking is going off on the relay box, and in the engine, a loud ticking noise is going off as well. When the relay clicks, the sound is slightly quieter in the engine bay. The engine bay sound comes on 5 seconds after I turn the car to ACC mode. Not sure what it is. Most people are directing me to the Evaporation Flow Control Solenoid, but I have no clue where that is on these older cars... Not too sure what it is, here's a link to the video of the sound though:
Any ideas?